Of all the wedding receptions we have visited, we have seen people focusing most commonly on mundane activities. These activities include dining, dancing, cake cutting, receiving wishes, and similar classics. And we always thought...where is the fun and shenanigans for the night?
So, we decided to bring a change with these 6 exciting ways to enhance the Indian Wedding Reception. We have curated this list keeping in mind all the arrangements, day-time preparations, and other scenarios to make your wedding reception a day to memorialize.
Have these ideas on your wedding checklist and convey them to your wedding planner!

1. A Portrait Studio
Photobooths in weddings have become extremely popular these days. And surely, they serve their purpose of getting amazing pictures clicked. However, having a single backdrop in all your photos can be redundant and make your photos boring.
Luckily, there is a better alternative. Instead of a small photo booth, install a Portrait studio. That way, you can have multiple backdrops and lighting environments to lure your guests to get clicked.
Add multiple backdrops of different shades and colours. Be quirky with props and lightings. Add something that is particularly significant to your relationship, thus giving a personal touch. This way your guests would also remember their attendance at your wedding reception through these photos.
When it comes to clicking pictures, you have some choices. You could hire a photographer to get clicked. This way you'll have rich quality pictures in your album. Plus the guests would also love to be guided for amazing poses.
Otherwise, to make it economical, you can set up a smartphone camera on a tripod. Have a wireless shutter button connected to the phone, and let your guests induce creativity. Just make sure to have an instructions board on 'how to get clicked'. That way, they'll know exactly to capture the right moment.

2. Organise a Scavenger Hunt
A scavenger hunt or more commonly known as a Treasure hunt could be a fun activity at your wedding reception. It can be a great activity to keep your guests engaged with a bit of fun.
Though, we are not wanting you to be jiggling around the reception like kids. You can have puzzles, rewards, and difficulty according to an adult.
When all your guests are involved in solving puzzles and rushing, make sure you have a photographer ready. It's a great chance to add minglings and capture candid moments that your guests will cherish forever upon receiving.
Also, offer a prize to the team that successfully completes the scavenger hunt. A gift basket or a hamper is a great thing to offer.
3. Hire a Caricature Artist
If you want to give your guests a personalised token as they leave with wishes, consider hiring a caricature artist. It's an eccentric way to amaze them and laugh their hearts out upon seeing their cartoonist imitations.
Plus, it reduces your workload. You now won't have to care for arranging and giving them wedding favours. They now have their personal favours with them. Just add cards on the table directing them to reach the artist and make one for themselves.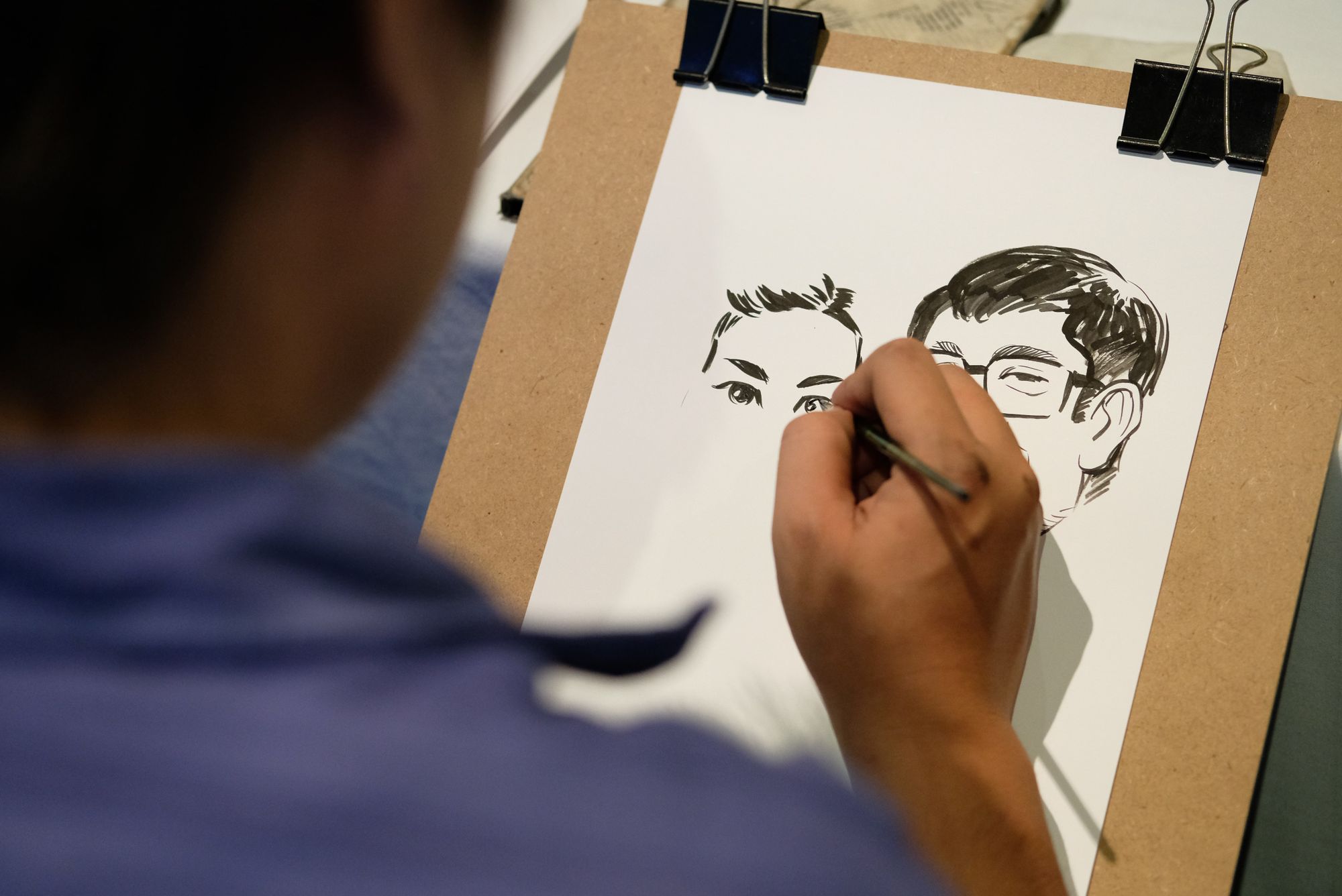 Make sure you arrange a storage place for keeping the caricatures. This way, the guests won't have to haul with a piece of paper throughout the wedding reception.

4. The Cocktail Hour
It is said — It isn't a party without a good drink in sight!
Your wedding reception might have a subdivision for serving drinks. This is the place for upbeat merrymaking night. Those happy faces will turn into cheers, and brighter smiles when they hear this fun time blocking serving at the drink station.
The fun activity is to have time blocks for different drink serves. For the initial hours, you can begin with bhang! Further, you can change the options for drinks — alcoholic or non-alcoholic — every hour, and keep it rolling into the reception.
This way, your guests would be amazed to have different tantalizing tastes.
For a destination wedding, serve cocktails and other drinks in coconut or bamboo shoots. That will make the merrymaking experience more alluring and aesthetic!

5. Music Request Box
This is your soiree to remember! And there shouldn't be any stone left unturned to make the dance and waltz the perfect part of a wedding reception.
Have a music request box close to the dance area. Keep a stack of notes and a pen beside it. And now let your guests choose who should rock with whom on the stage.
Add an instruction board — write the name of the song and the name of the person you want to see hitting the floor. And if someone wants to join, they are free to do so.
This way, everyone would have extreme fun and snaps and dance moves to show. Also, you won't be pissed off when DJ wale bhaiya doesn't play your song. The driving wheel is in your hands now.

6. Add sweetness
After extremely long days of wedding functions, the wedding reception makes everyone feel tired and dreary at the end. But you, as an important part of the wedding affair, cannot let that happen. Why not add sweetness to the moments before you bid adieu to your guests?
Add an injection of sugar, by adding a cart or a food truck that serves a mixture of sweet-as dishes or snacks. Think of traditional sweets, cookies and shakes, doughnuts and creams, gelatos and syrups!


Your reception party is supposed to be banging and leave an impression on the hearts of your guests. And we believe there is no better way than to have oodles of fun activities, personalised touches, scrumptious food and tantalizing drinks and bouncy entertainment for an amazing night!