Photo booths in weddings have always been a beehive for every photoholic person like you. Photo booths add drama and enjoyment to your wedding while keeping your guests entertained. So, you can focus your attention on other important things at your wedding.
We have pulled out these amazing DIY photo ideas that will, we bet, get you amazing pictures. Moreover, if you were looking for something aesthetic and light in your pocket at the same time, the below list is a full-fledged package resource.
Even making a DIY photo booth giving a personal touch to its decor along with friends and family is one great time to have. You will thank us for giving you this idea for collecting some cherishable moments for life.

1. The Simplistic approach
Just gather some wood planks or plywood sheets from waste, paint it white, bring in some nails, and punch them together. To give it a prettier look, arrange a couple of artistic flowers and attach them to the plank board you have made.
At last, perch a carpet on the ground, and place a couch on it. Now, you're ready to click photos!

2. Hang a frame
DIY frames are the go-to solution if you won't have a single minute of relaxation from any other arrangements.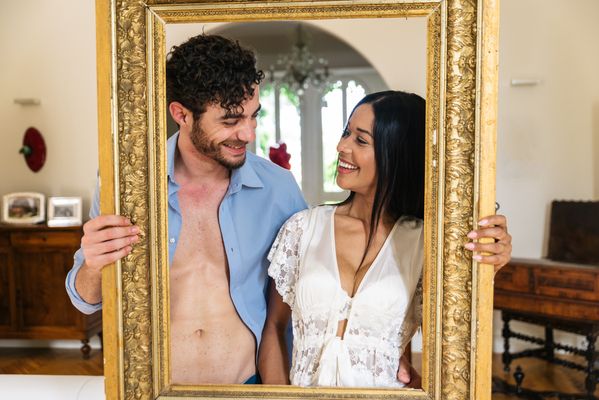 Take thick cardboard, cut it out rectangularly leaving more space at the bottom, paint it (or stick chart papers), write your wedding #hashtag at the bottom of the cardboard. Finally, just contour the cardboard's edges with lush green, and cling it. Your guests now can enjoy clicking pictures inside the rectangle.

3. Vibrant Kites
Collect a load of vibrant colour kites and attach golden or silver tassels on their tails. And then either connect all of the kites or individually hang them to get an absolutely vivid background for your photos.
4. The Chalk and the Board
For this, we think you might have to go to your school to arrange a board and pieces of chalk you used to steal after the teacher's departure!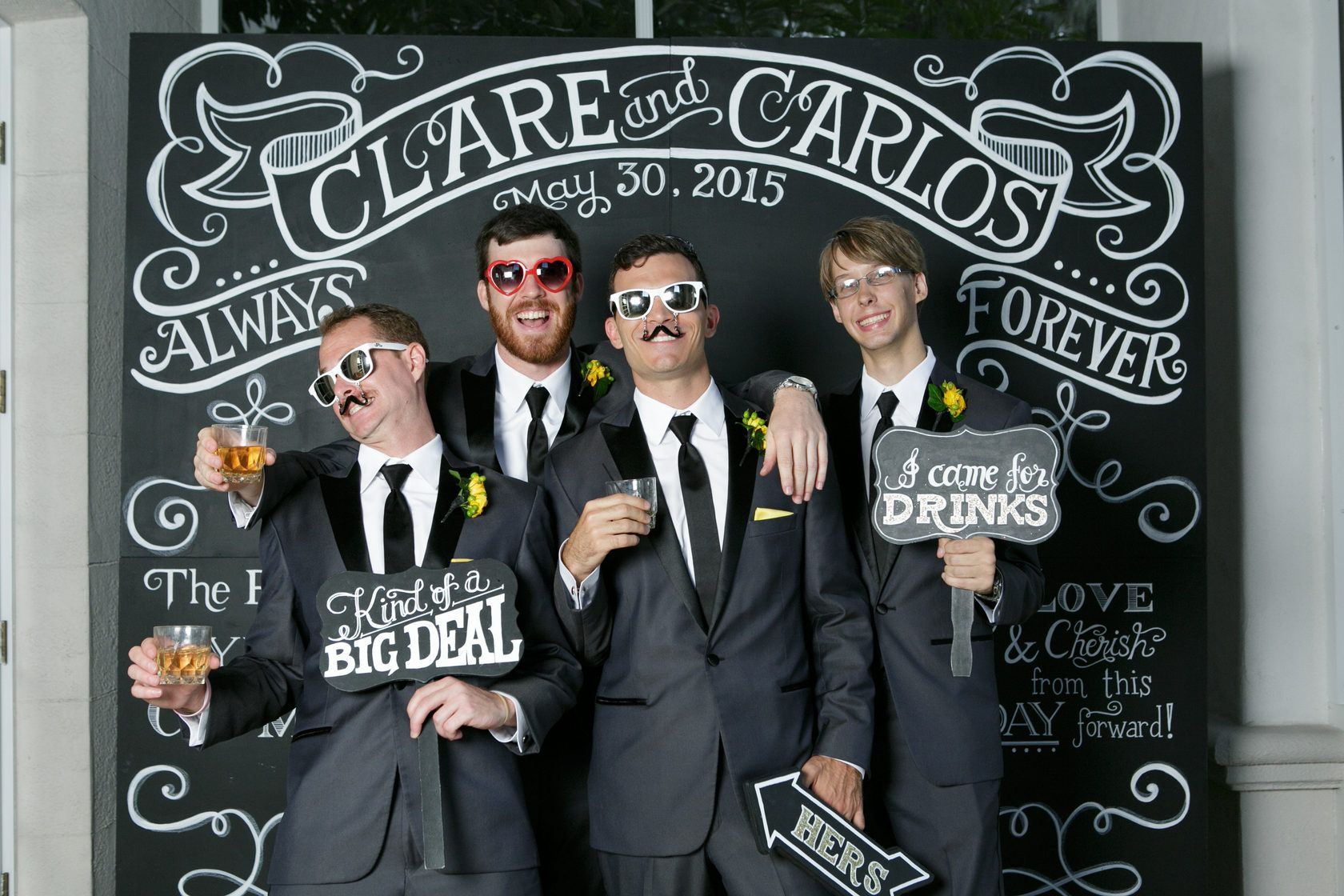 Just make sure the board is large enough to encapsulate two people. Now that you have got one, scribble the board with anything; patterns, couple's names, hashtags, quirky, etc. And contour its edges with frills or tassels or leaves or anything.
Okay, now you can call the photographer, or request any professional born photographer in your family to click photos.
5. Bottles at the background
This is one quirky DIY Photo Booth idea you can opt for if you have a carat of empty wine or beer bottles. You just have to wrap these bottles with paper having the couple's name initials on it.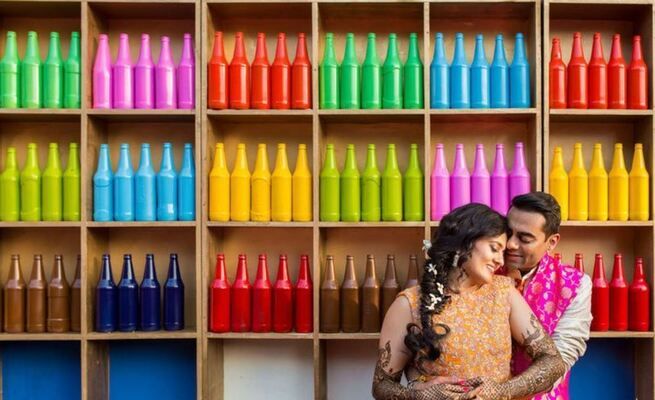 Now, stick these bottles on a cloth, and click photos; fulfilling the reuse of waste items for a purpose.

6. DIY Chime Pipes
Have you ever thought of making a wind chime set with steel glasses at your home? Well, if not then this is the time for experimentation. Just grab steel glasses available in the home, arrange some strings and double-sided tapes. Attach these strings to the glasses at different heights to cling them from a frame.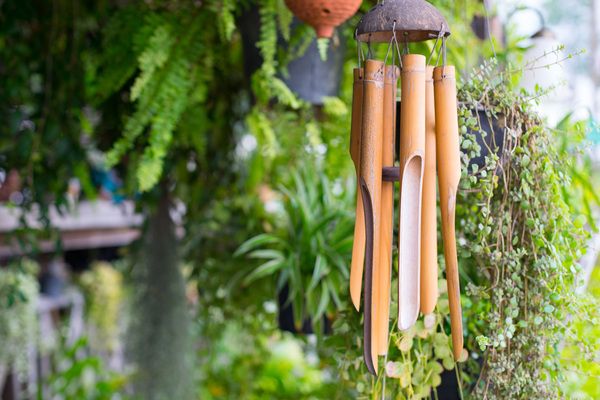 Now, you have your own wind chime set. Or perhaps a larger one. While doing all this, just make sure you have permission from your mother to use glasses.

7. Ribbons and Streamers
We Indians have a habit of collecting and keeping the left out ribbons from birthday parties. Well, now is the time you resurface them out of your storerooms and bed boxes.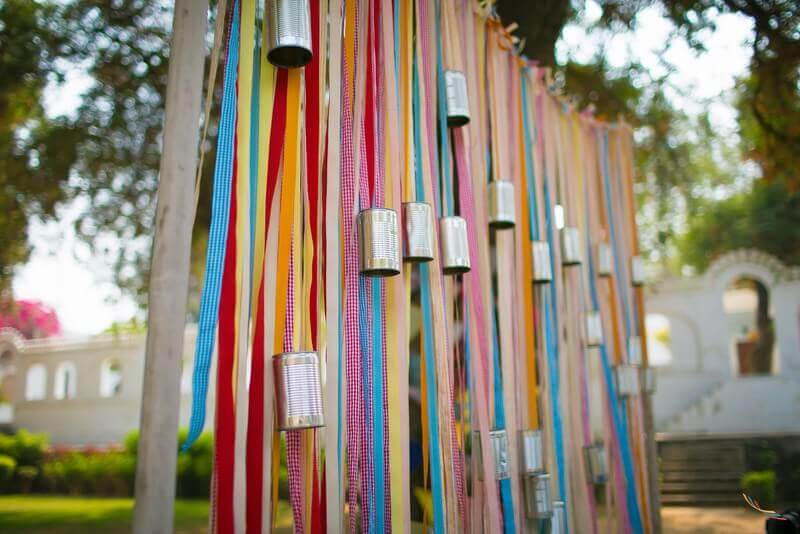 Arrange loads of ribbons from your spouse's house, friends and relatives. Now, stick one end of these streamers to a horizontal string and let them get bloomy.
A plus thing is your guests will love the candid pictures while these streamers bloom in good weather.

8. Origami all over
It's time to make children in the house get to work. Ask them to make figures using Origami paper — a lot of figures — and then attach them with strings for dangling off a wooden frame.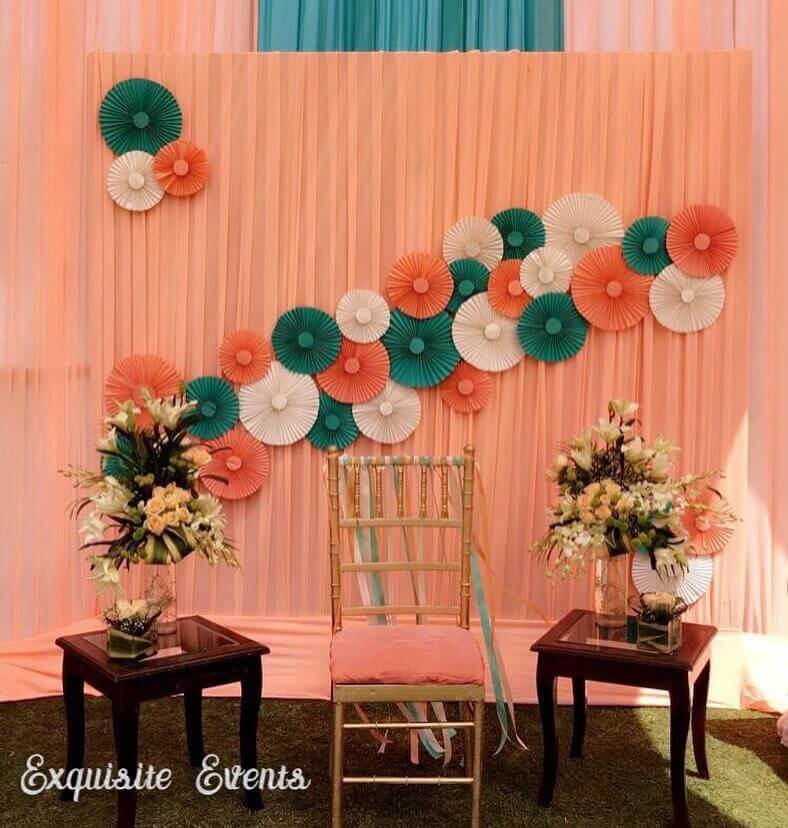 Your guests will love the idea and the pictures that will come out of this effort taken by small warriors. Make sure to reward these warriors!

9. The unknown power of Bulbs
This is the most simple and elegant idea to quickly set up a Wedding Photobooth.
Just arrange a good number of tungsten bulbs, or LED flicker lights (used in Diwali), connect them together with your mighty electrician brain.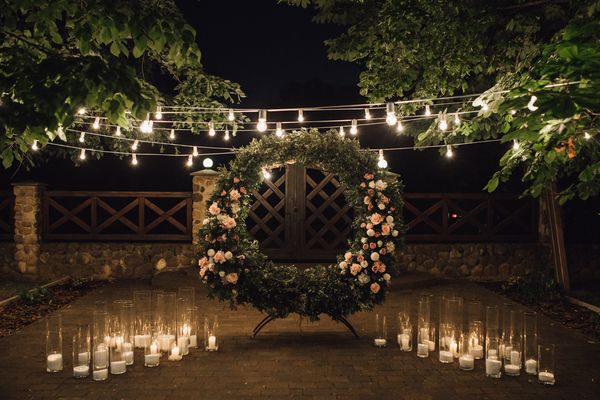 Now, just switch on the button to find the soberest yet aesthetic Photobooth that your guests will drool over to click photos for its perfect lighting.

10. Drapes coupled with Flowers
If you want a royal-everything wedding, then you must go with this Wedding Photo Booth Idea.
Just arrange a wooden frame, grab the drapes available at home, and buy a bunch of blossoms and roses and sunflowers. Now, wrap the drape around the wooden frame however you like, attach these bunches of flowers at the three edges of the frame.
There you go with your Royal Wedding Photo Booth for a Royal wedding!
11. Masks and Costumes
If you are a couple who wants to add masks and costumes as of parties you would visit in your relationship or courtship, then this is a perfect idea to blend that into a photo booth.
Your guests, teenagers would love to wear those masks and get clicked having fun!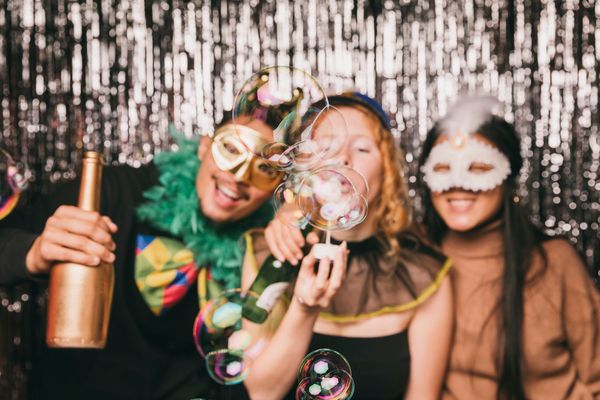 We hope you love these small, in-no-time ideas to make your Wedding Photo Booth adorable for your D-day. Have more ideas mixing some other things? Let us know in the comments!