"What would I do in a small place at my wedding? How would I get amazing photographs with no grand backgrounds and setups? I am sure, no one would enjoy my intimate wedding."

We just found these questions flashing everywhere for the intimate wedding scenario, and thought about it. Why not curate a blog which helps couples set up a wedding décor that is not dull & boring but strikingly perfect for an intimate wedding?
There are many ways to make your wedding décor stand out despite the small spaces. We are telling you, you don't need OTT wedding décor to have an amazing wedding celebration.
Just roll your eyes over these ideas and trends to find one that suits your limitations and scenarios for the intimate wedding.
Make sure you bookmark these ideas and make use of them for your intimate wedding!

1. A Vivid set-up in your Living room for a perfect Mehndi soiree
Bright colourful florals and striking yellow bandhani cushions will just pep up your intimate wedding décor for Mehndi Session.
Everyone would love to be a part of the function in those cosy rooms with radiant smiles on their faces as they adorn your hands.
And the perfect lighting of the living room can add vibrancy to the pictures you would never stop admiring.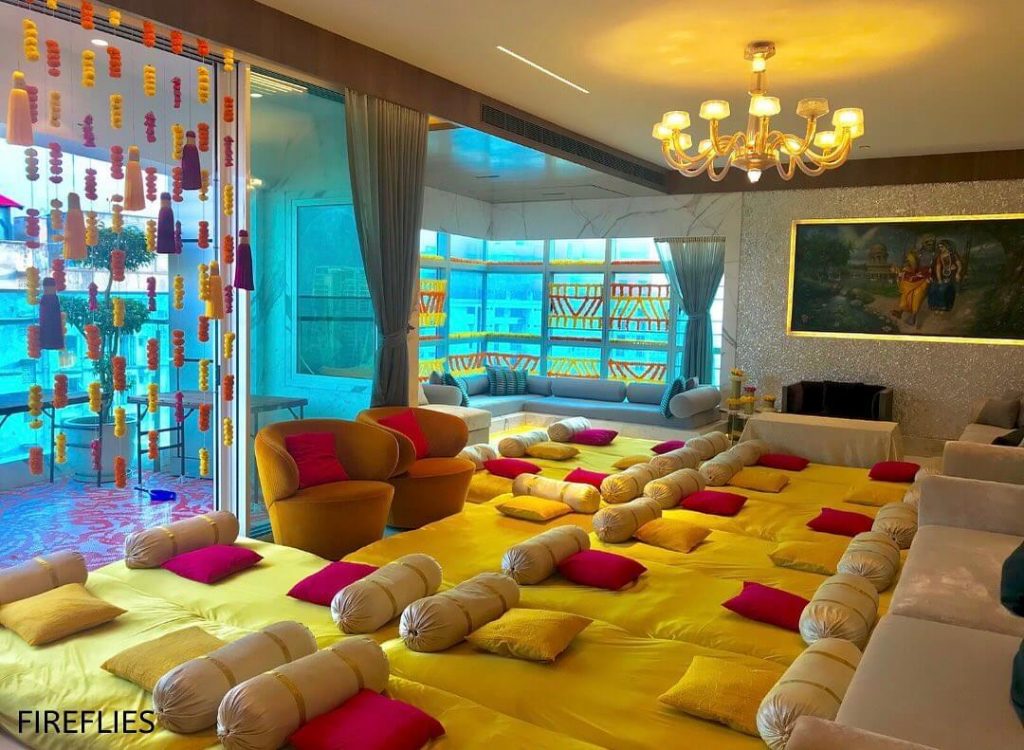 2. A Kaleidoscopic Photobooth is a Yes Yes for an intimate wedding décor
Intimate wedding décor is incomplete without a colourful and dazzling Photo Booth.
There are numerous options you can try out for Photobooths at your wedding.
Photo booths have no barrier for age. Everyone including senior people love to get clicked at peppy backgrounds. You'd find the young ladies drooling, posing and buzzing around these Photo Booths.
Find those amazing ideas here.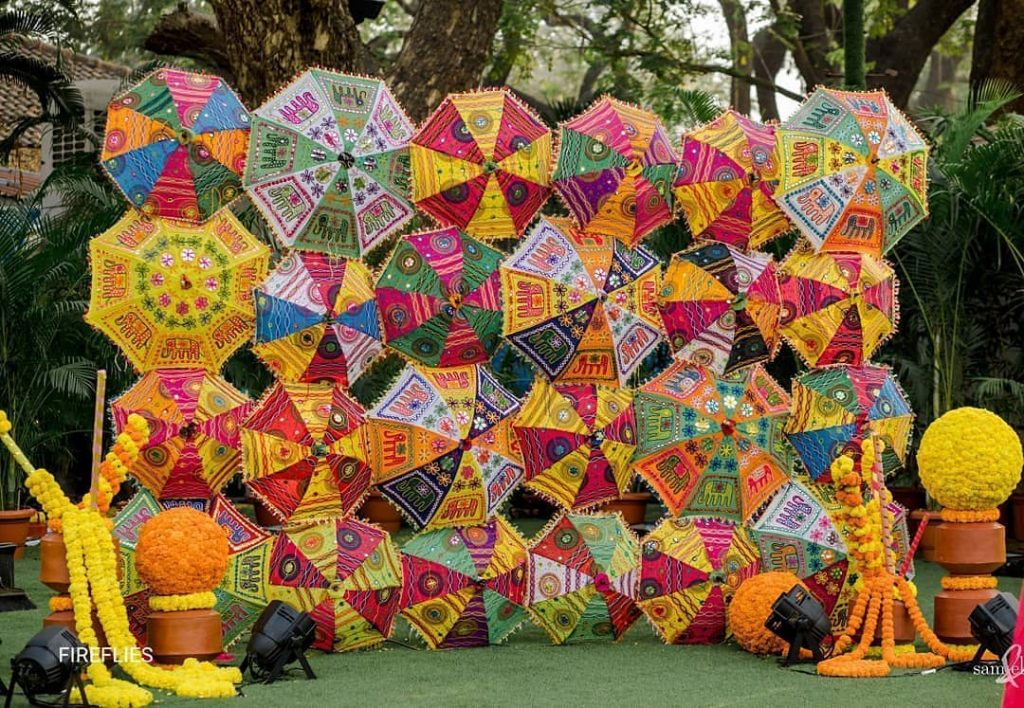 3. Simple yet gorgeous wedding couple seating
You don't always need grand chairs and sofas to receive blessings. Setting up a small single bed with stretched white sheets and colourful square-shaped cushions skewed to the edges would make it flawless. To make the small setup more attractive, place two cylindrical cushions parallel to the edges of the bed and a backdrop with flowers.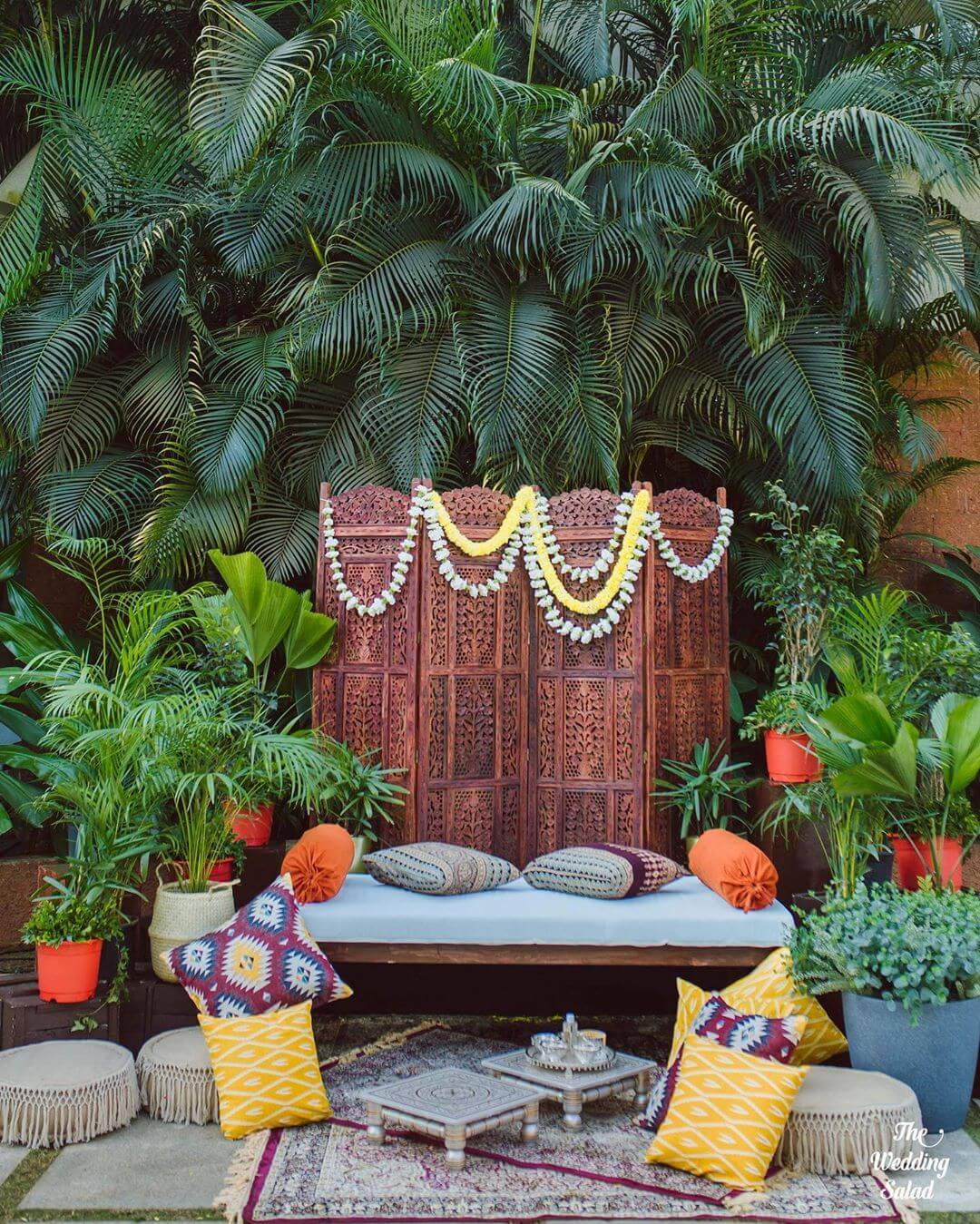 You can also go with hanging lanterns in the background to achieve an aesthetic look.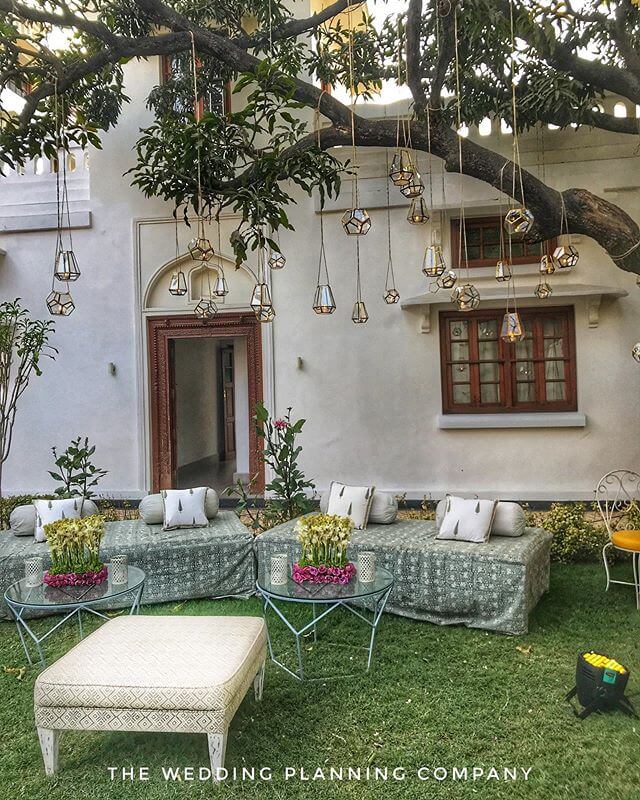 And there you got a small cute yet gorgeous setup for perching at an intimate wedding to be bestowed with love and blessings.
4. Impressive Wedding Sign Boards cannot be ignored
All the dreariness can be replaced with wedding signboards at every entrance through impactful lines and hashtags of couples. You can go to any extent in your creativity for these lines that would make the moods exciting.
We surely have some great lines for every wedding function that you should check out.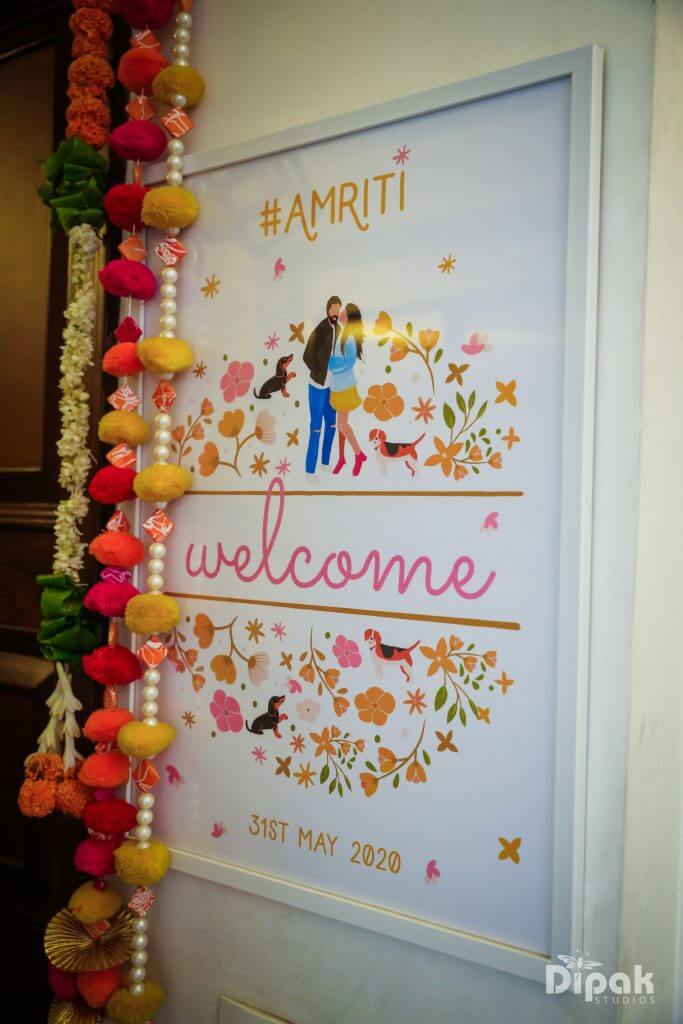 5. Add elegancy with simplicity to the Mandaps
You do not need grand Mandaps to take your vows. Sometimes, simplicity rules over affluence and probably looks more amazing.
Going with a simple Mandap with just some flowers and frills hanging over your head, and stools for sitting will do all that you need. Moreover, this simplistic trend won't even take much from your pocket which is an otherwise situation that would cost thousands.
However, the question is, what trends are prevailing and liked by everyone in the intimate wedding scenario?
Check out these amazing wedding decoration trends perfect for your intimate wedding.

Pink and Lilac Ombre
Look at this décor featuring gold hanging diyas, brass urils, coupled with a pink to lilac Ombre colour palette. To add more to these, silk drapes spun or suspended at the corners of Mandap is just perfect for an intimate wedding Mandap Setup.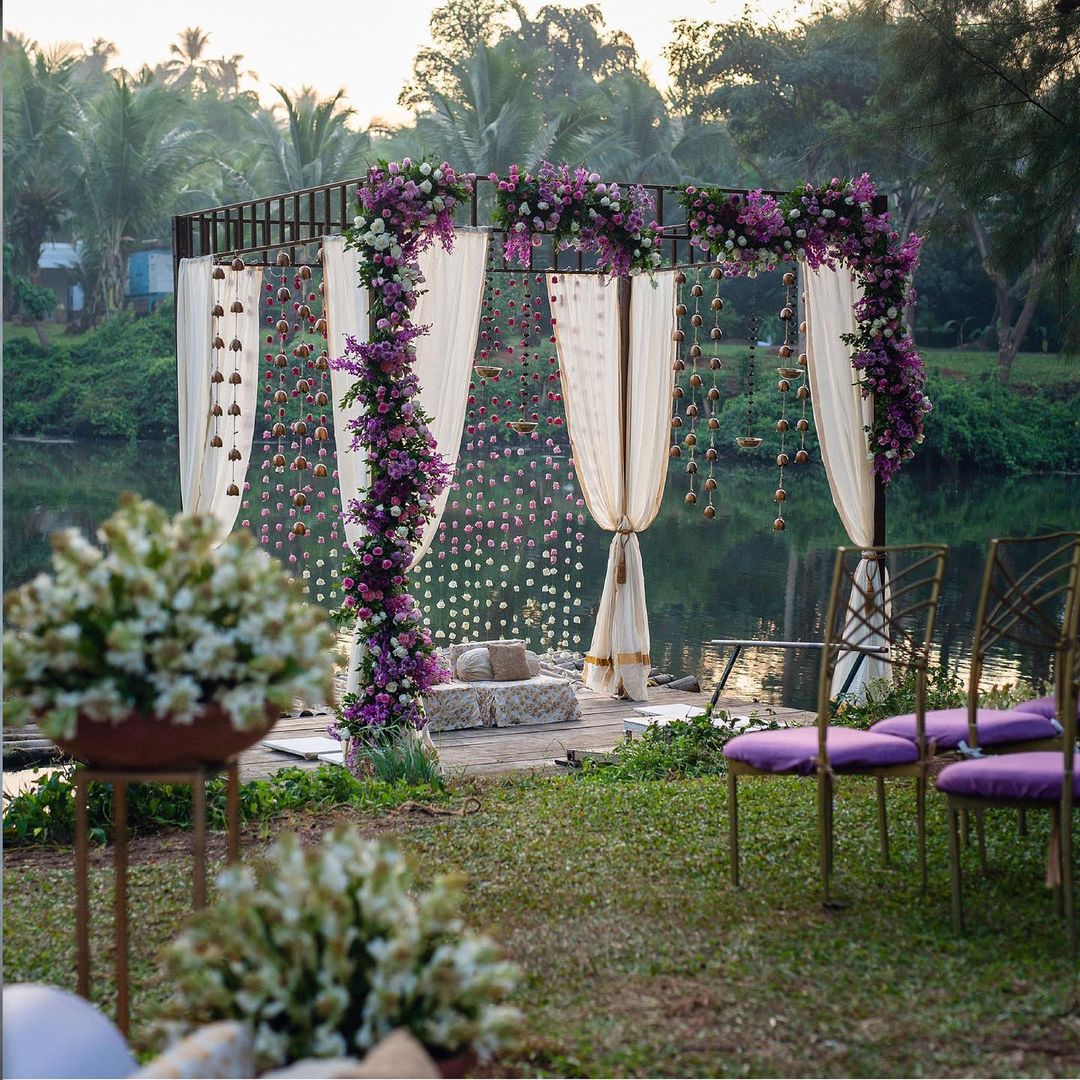 Striking Bright Yellow Drapes
This Yellow and white combination of drapes mounted with beautiful florals at vertices and edges is surely the décor you were looking for. This setup is best for adding quirkiness and liveliness to the already blooming environment of the auspicious day.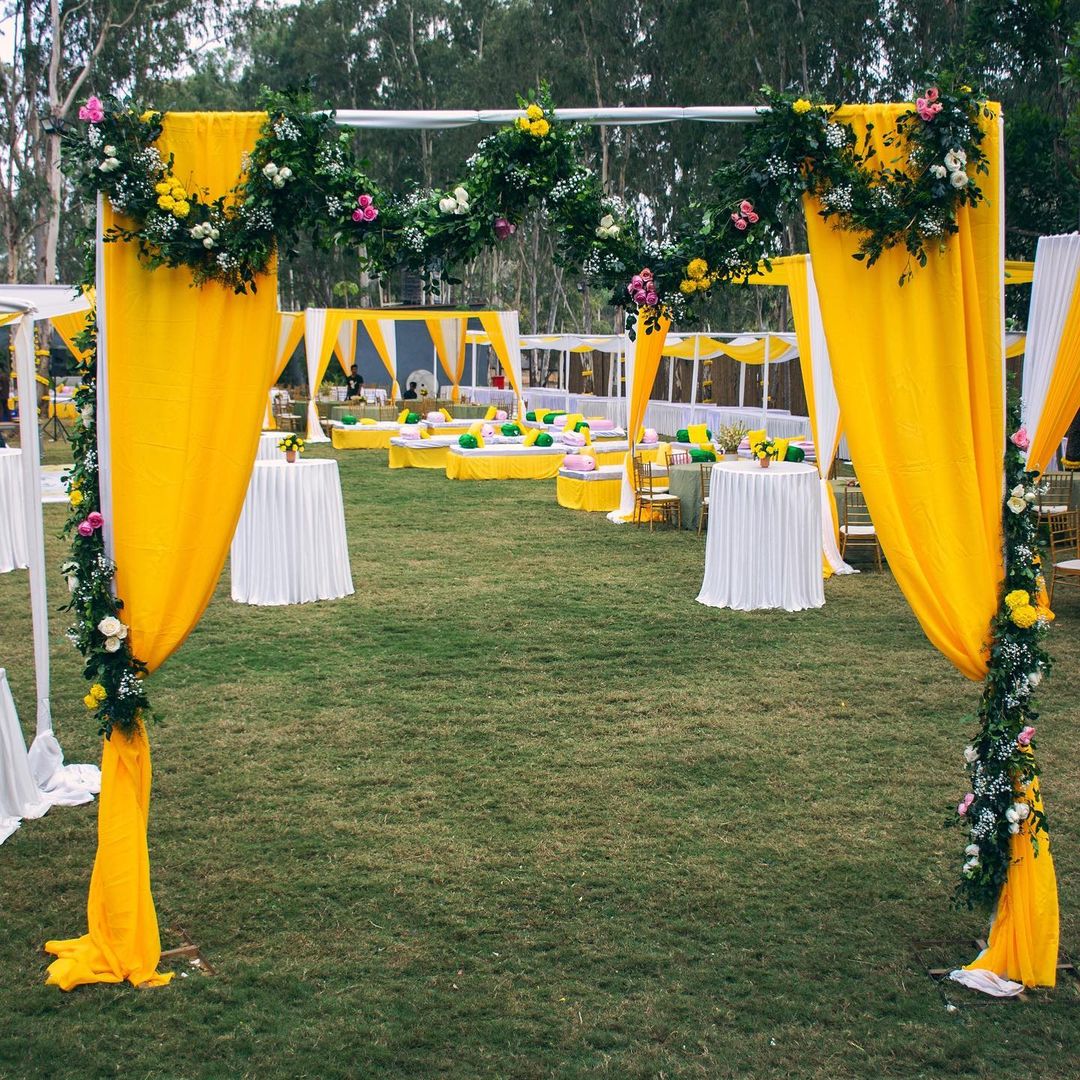 Pastel drapes combined with hanging lights
We cannot just resist sharing this obsessing trend to deck up your wedding. Pastel colour drapes coupled with fairy lights appeal for an evening Mandap Setup which is perfectly perfect for your intimate wedding space.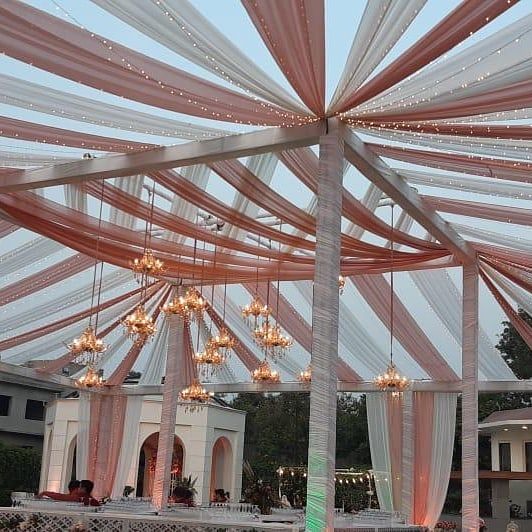 Vibrant and Bright Setup for intimate wedding décor
Another wedding décor trend that came into the spotlight for this wedding season is the colour palettes of bright colours. The chatai pattern of the ceiling, embroidered sofas, colourful hanging tassels are hitting this wedding season of 2021 and will continue for 2022 as well!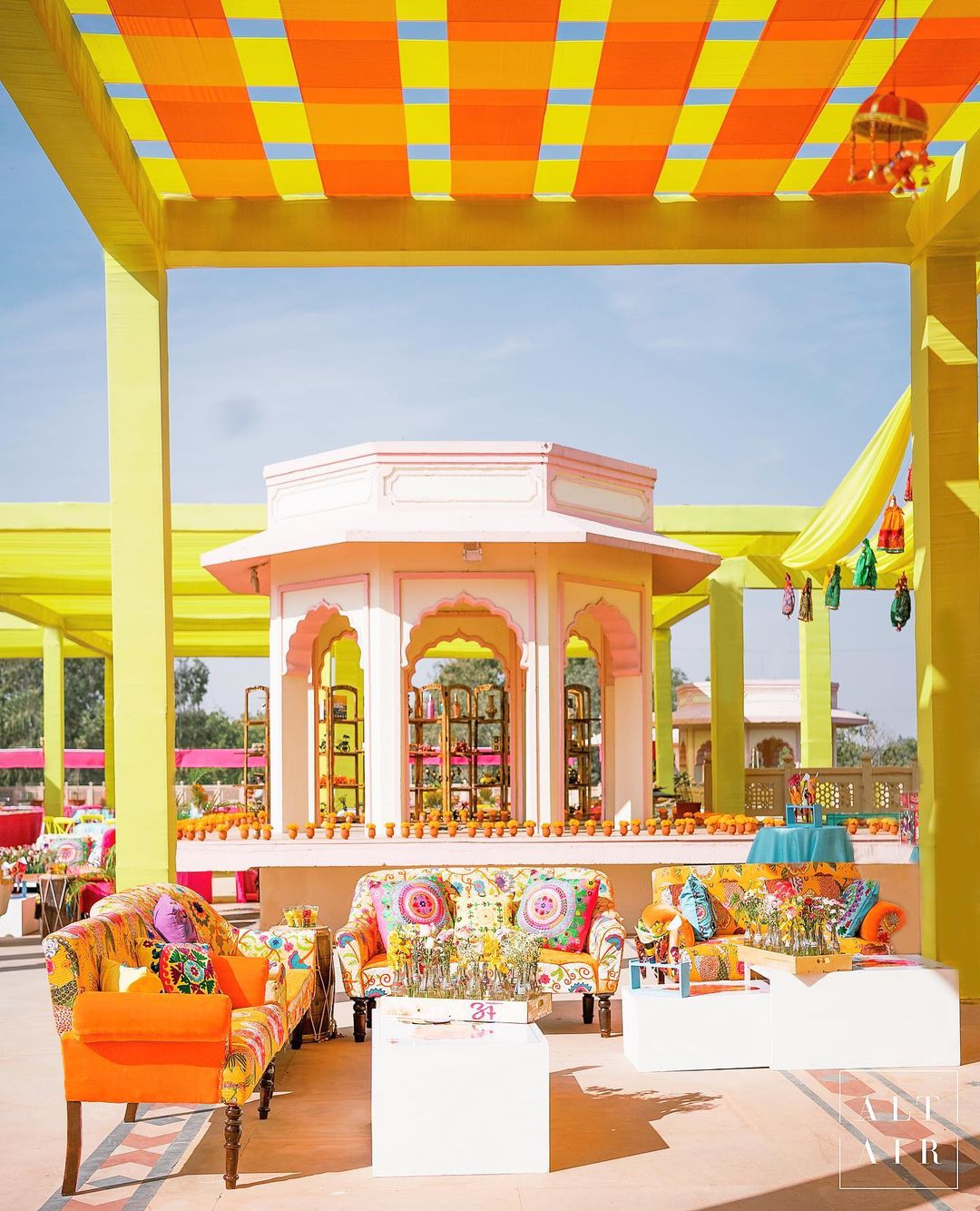 Refreshing Floral Blue hues all over for an intimate wedding décor
For couples who love subtlety, this is the perfect adorable beauty setup that involves the use of only two colours: Blue and White in an offbeat fashion.
Despite the subtleness, this will be a perfect fancy décor idea and, of course, a trend that is loved these days.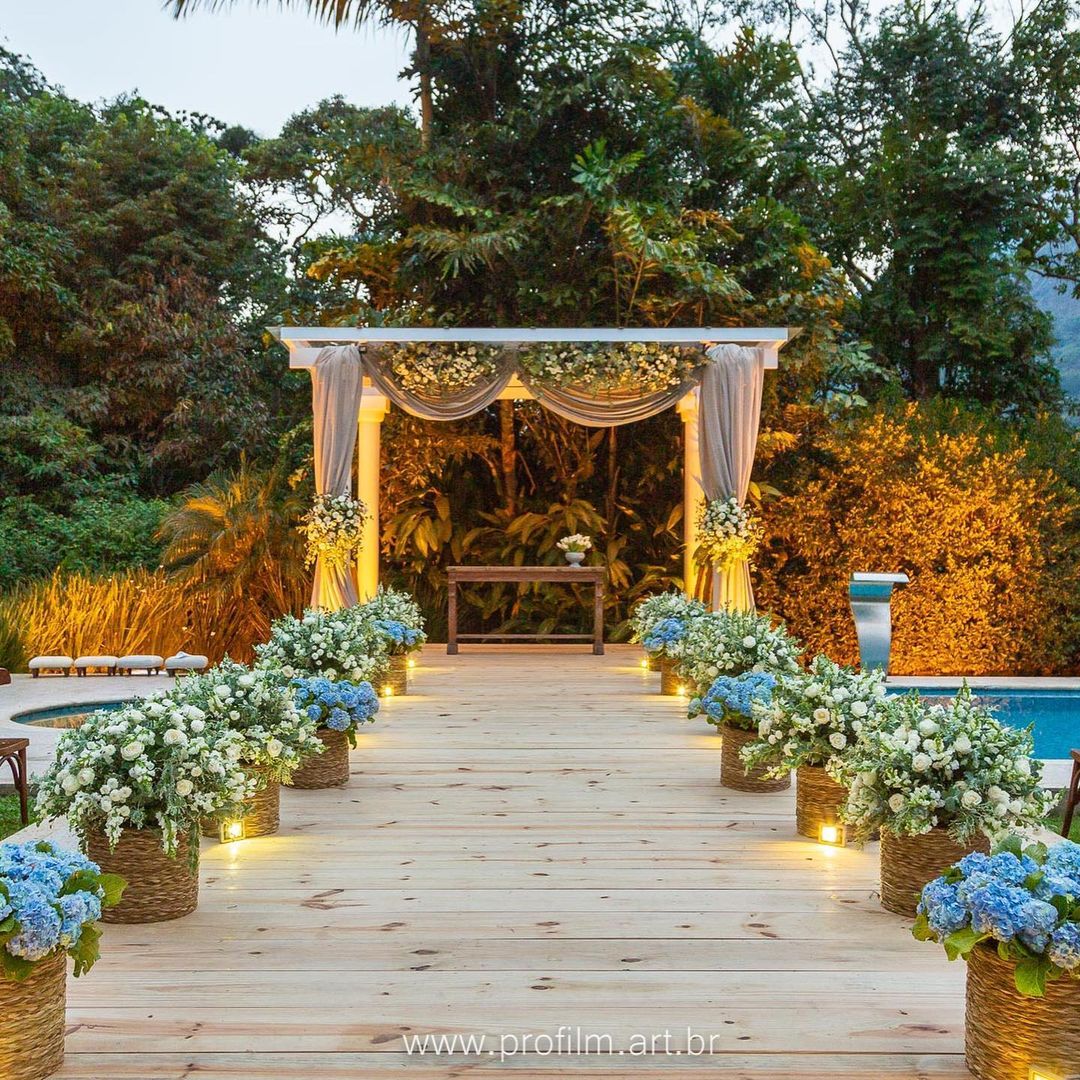 Drapes with Chandeliers for an intimate wedding décor
The magnificent and grandeur speaks out for itself, and this combination of drapes and chandeliers for your Mandap is surely not what everyone is looking for!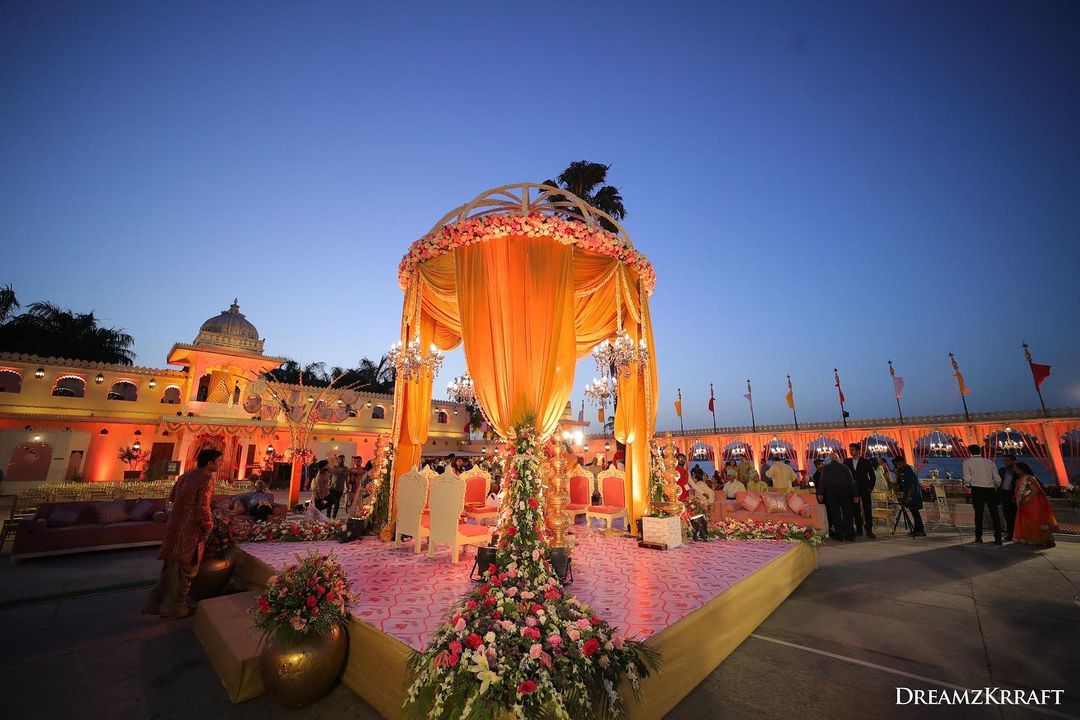 So, these were some of the prime wedding decoration trends & ideas for perfect small and intimate weddings. We know you have selected the ideas you feel are best for your intimate wedding. Just don't forget to save it, write it, or describe it on your wedding checklist.