'Ek Garam Chai ki Pyali ho...Koi Seene se Lagane Wali Ho…'
What if this song's essence is induced in your wedding decor? Would you love having a Garam chai ki Pyali, along with Pyalis all over decor, and a Seene se Lagane Wali/Wala Ho? Obviously, why not!
Some couples are really into Chai Chai Chai all day, and some just love the relishing sound and the dissolving taste as you sip it from piping glasses. And for some Chai is a Go-to formula to fix anything.
Whichever couple you are, you will definitely love the idea of associating everything with Chai and the decor all over.
We have made a quirky Chai-tastic list of Wedding decor ideas for chai lovers you would stove on right away.
It is time to ode your all-time elixir and pep up your wedding decor with some of the most adorable chai theme decorations ever.

Latest Chai-tastic theme wedding decor to pep up your wedding decorations

1. Cutting Chai Glasses as pretty Table centrepieces!
The simplest way to give dull cutting chai glasses, along with their stand, an aesthetic look is stuffing the cutting glasses with flowers and colours.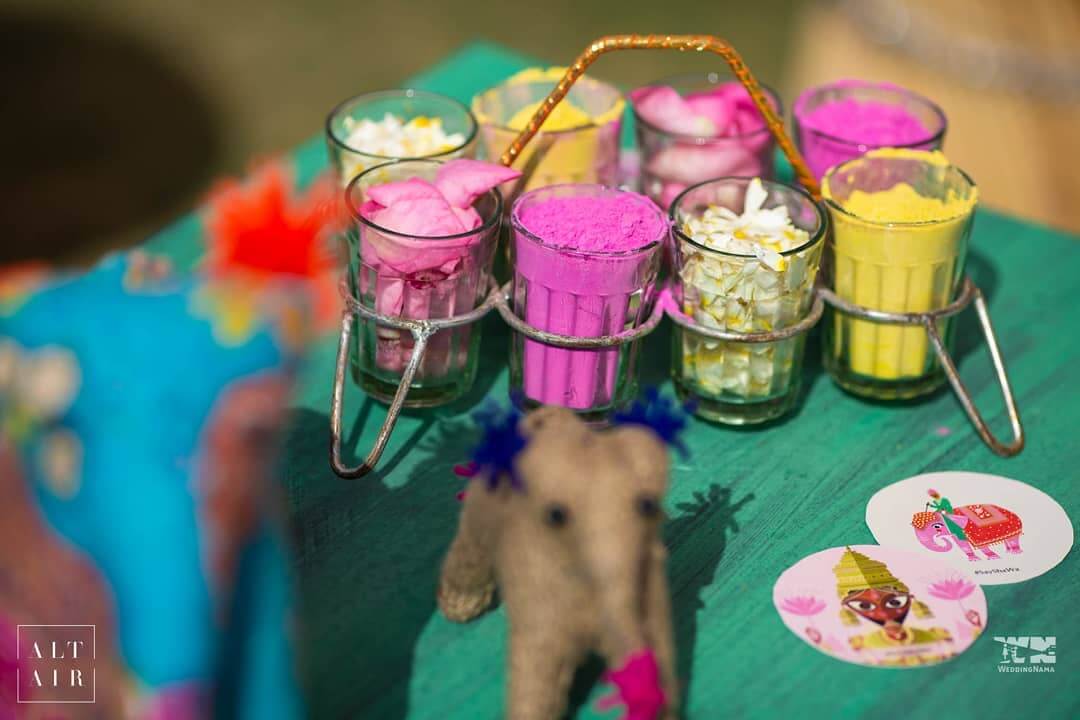 2. These peppy kettles are must have decor for your Mehndi Ceremony
Purchase some kettles from any of the street chai vendors or ask your catering vendor to arrange some.
Now, gift some paints and paintbrushes to the born artists in your family, and let them imbue their creativity out of their innovative brains onto the round-shaped aluminium.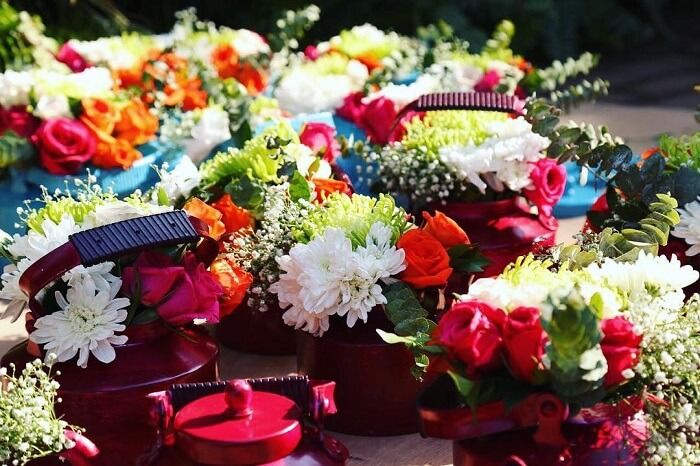 3. Colourful Chai Glasses filled with blossoms
You can paint these glasses with single tone colours, or doodle and scribble on them. Then, fill these pretty looking glasses with blossoms matching with the theme of your wedding to perfectly perch on tables as centrepieces.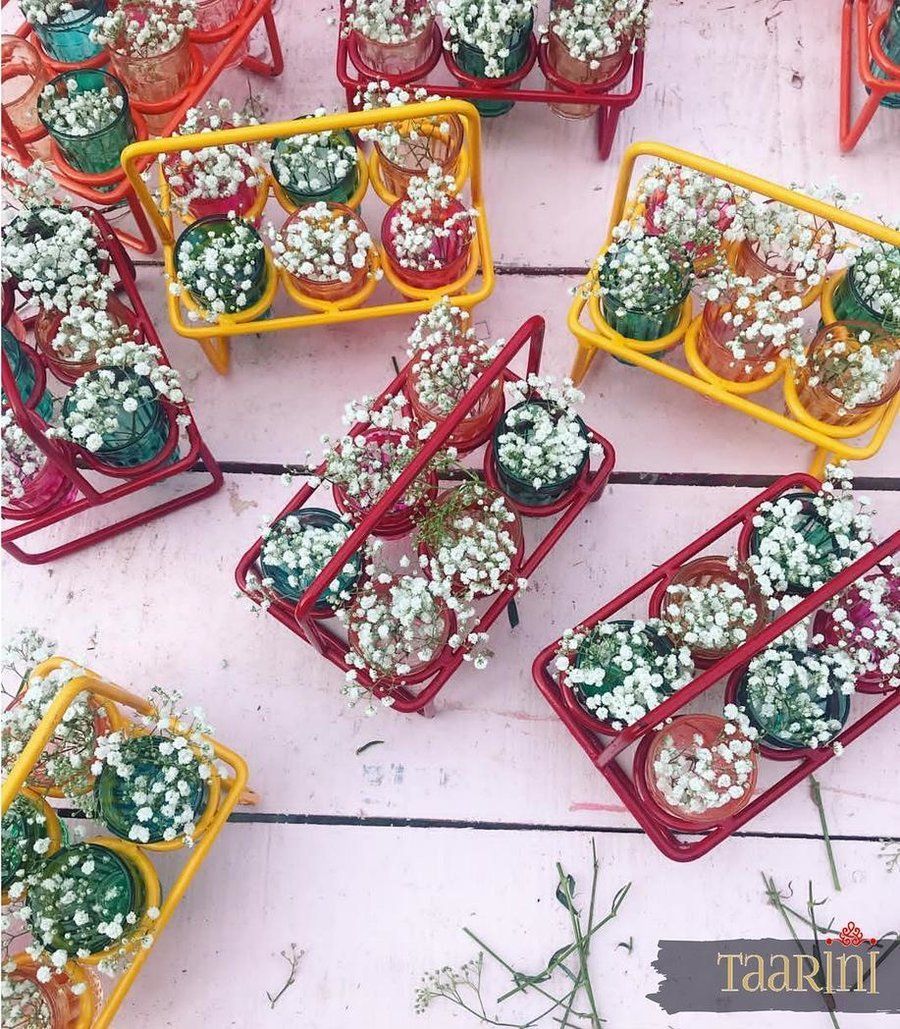 4. Peppy colourful kettles plugged with pinwheels
If you have got a good number of kettles, paint-ready. Then, we suggest you unlid these kettles, fill them with flowers, and plug two to four pinwheels on each of them.
Now, you are good to adorn the table with these eye-attracting centrepieces.
5. Hang Kettles at a Photobooth background
Add a flavour of eccentricity to Photo Booth decors by hanging these pretty looking kettles along with other adornings such as chimes, frills, and tassels.
This will add a touch of quirkiness and desi vibes to your already blossoming photos with beautiful attires.
6. Jars that are not Jarring
Well, we know Chai lovers not just take sips of chai, but also love to pick some salt-cookies, or Mathri (Flaky biscuits) along. And we all know these Mathris are stored in typical big-size glass jars with steel lids.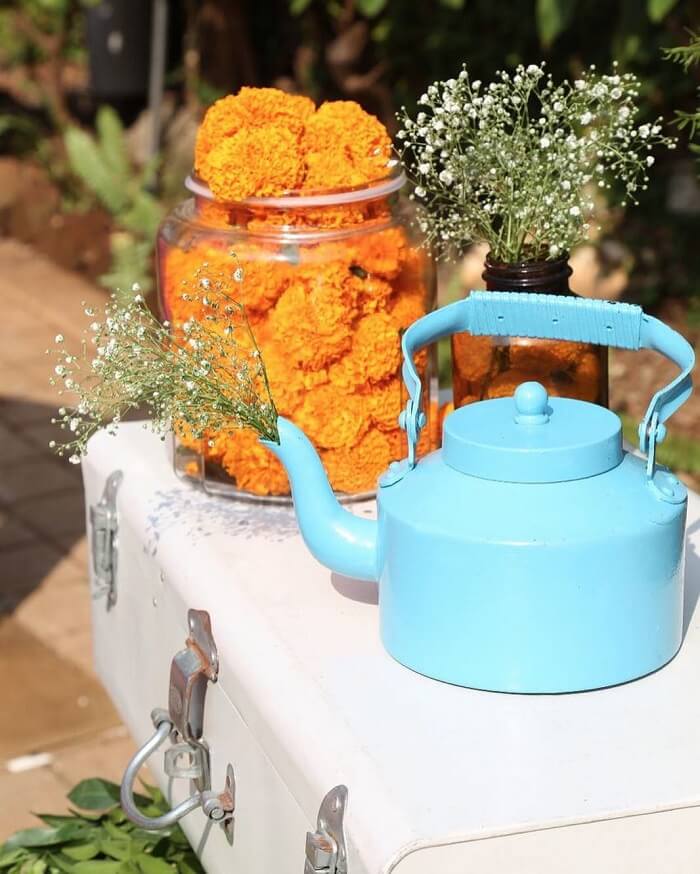 To give your Chai wedding decor theme an additional flavour you can take these jars and fill them with flowers & colours, perfect for cosy corners and stands.
7. You cannot miss Kulhads
How much we love sipping our beloved Chai in Kulhads, only a true Chai lover couple who have been experiencing the delicacy of Chai at a Gumti or a Tapri can tell.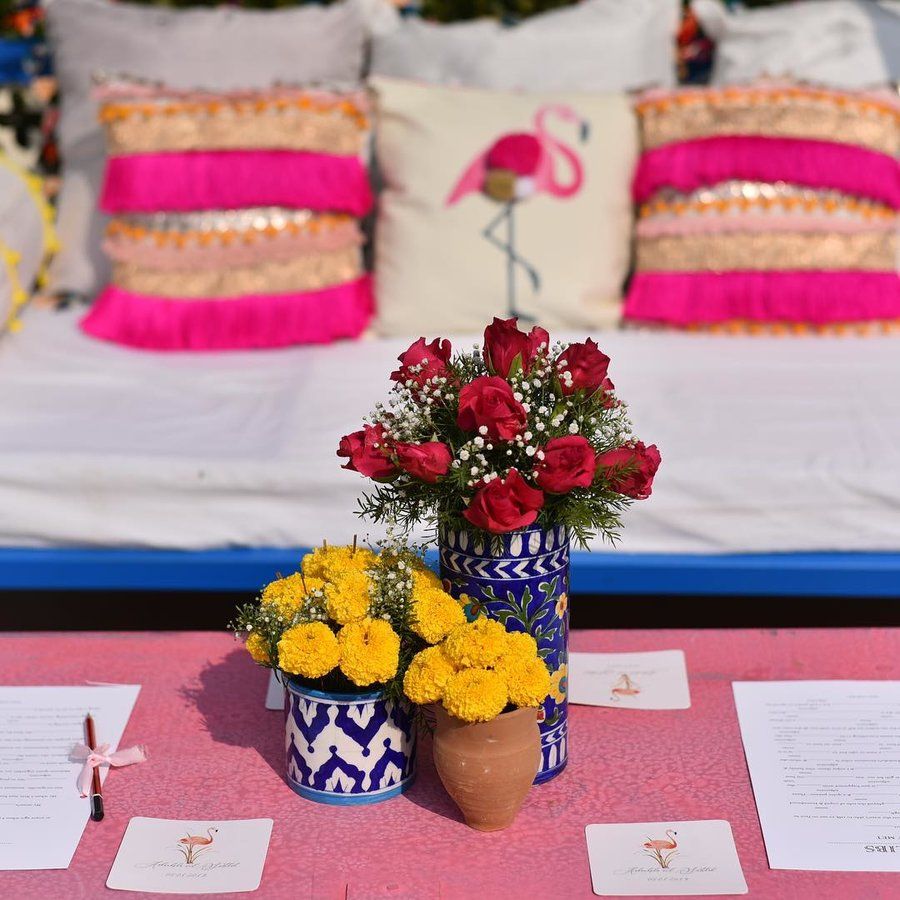 However, you can start collecting these kulhads for your chai-tastic wedding decor every time you visit the stalls instead of smashing them.
These Kulhads for your wedding's all over decor can be perched, planted, or hanged anywhere for an adorable glance.



We have given you the ideas, now it's your turn to make these plausible ideas make every chai lover's heart adore them.
Let us give you one more suggestion! Mix and match these Kulhads, cutting glasses, and kettles with flowers, paints, frills, and tassels to come up with a unique decor especially seen only at your wedding.
And when you do that do not forget to send pictures of those amazing ideas to WedNicely!