Hurrying for posing for wedding photography with little or no time in between events and functions can turn down your album. Whether you are posing for pre-wedding shoots, engagement, or the big day...your photos should have a natural touch of your love imbued in them.
Knowing some of the poses already can ease the photographer's as well couples-to-be's time to complete the photoshoot session quickly. And there is no harm in getting comfortable for poses with each other before initiating the shoot.
After all, it's just you two embellishing your love.

11 Lovesome Wedding photography poses that require minimal or no prerequisite set-up

1. The V Up Wedding Photography Pose
This is a classic, basic wedding pose suited for all seasons. This could be the first photo on a wedding album or even the front cover.
Steps to pose:
Come close to each other touching your hips
Keep your hands flat on the side of touching hips
Groom can consider putting the other hand in pockets, or around the bride's hip
The bride can consider resting another hand on hip, or resting on beau's chest

2. Opened Up Wedding Photography pose
Similar to the basic V up pose, you can try this pose anywhere. It looks great in front of a frilled booth as well as on a hill.
Steps to pose:
Open up their feet towards the photographer
Separate your bodies to face the camera
Hold your hands in the middle
Consider looking at each other or to the photographer, with a lovesome smile

3. Closed up Wedding Photography pose
This is the most common pose for newlyweds, as it shows the pure love and intimacy between the two. For this particular pose, you just have to immerse yourself into each other bringing your bodies to close.
Make yourselves immerse in each other's eyes, make a lovesome kiss, and be candid with everything. The photographer will be professional enough to delve out perfect shots.
Steps to pose:
Turn in your bodies towards each other
Either hold hands or let your hands go around each other's waist
Feel the aura that there is only you two
Consider having a couple's kiss

4. One behind the other or "Stacked"
This one pose is perfect if you have chosen some breathtaking locations for your wedding or pre-wedding photoshoot.
It is often preferred by professional photographers for grand, scenic landscape photographs. For standing one behind the other, you can either have your beau in front or have yourself in the front.
Steps to pose (when grooming in front):
Stand behind the groom with bodies closely connected
Wrap your arms under the shoulder to place palms on the shoulders
Hold your hands while he turns his head smiling and you resting your head on his back
Look into the lens or into the distance of scenic beauty

Steps to pose (when the bride in front):
Stand in front of your beau
Let him keep his hands around your waist or wrapped around your chest
Hold his hands softly
Look into the lens or into the distance of scenic beauty

5. The Swing pose
This is one of the most dynamic and actionable wedding photography poses. However, it requires strength for a man to her spouse and makes her swing. Make sure he is mighty enough, and you don't end up with a thud!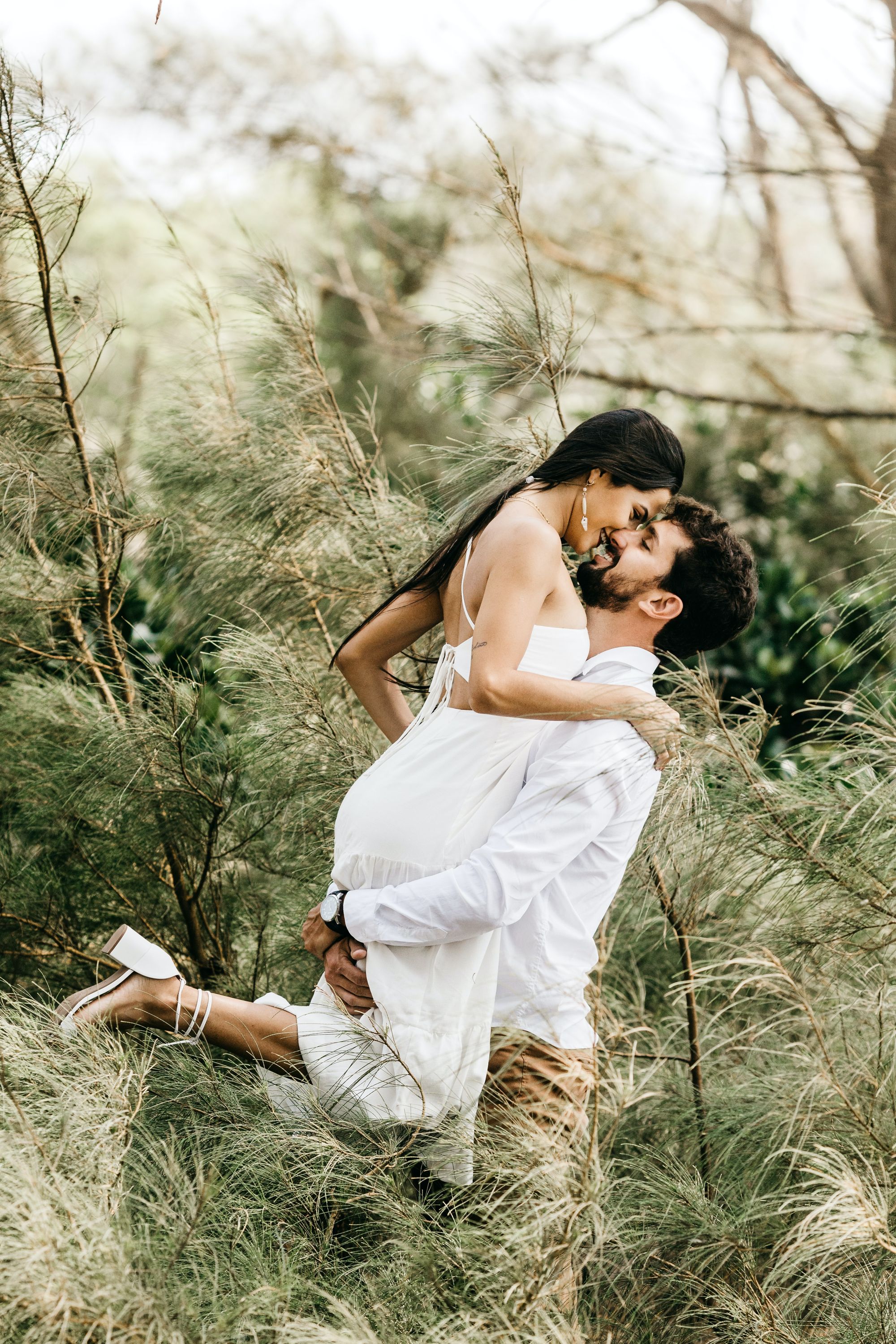 Steps to pose:
Bring your bodies close to each other
Make your beau hold around your waist and lock his hands
Your man now should lift you up while you lunge forward, making him comfortable to hold you
Lift your one or both legs in the air at the back.
You can even go for a kiss while in the position to add up more romance to the picture

6. 'The carry' Wedding Photography pose
Similar to the 'Swing' pose, carry also adds dynamism and action to the photo. It might require more strength to lift up your lady than the above 'swing' pose. So, the groom better practise lifting weights!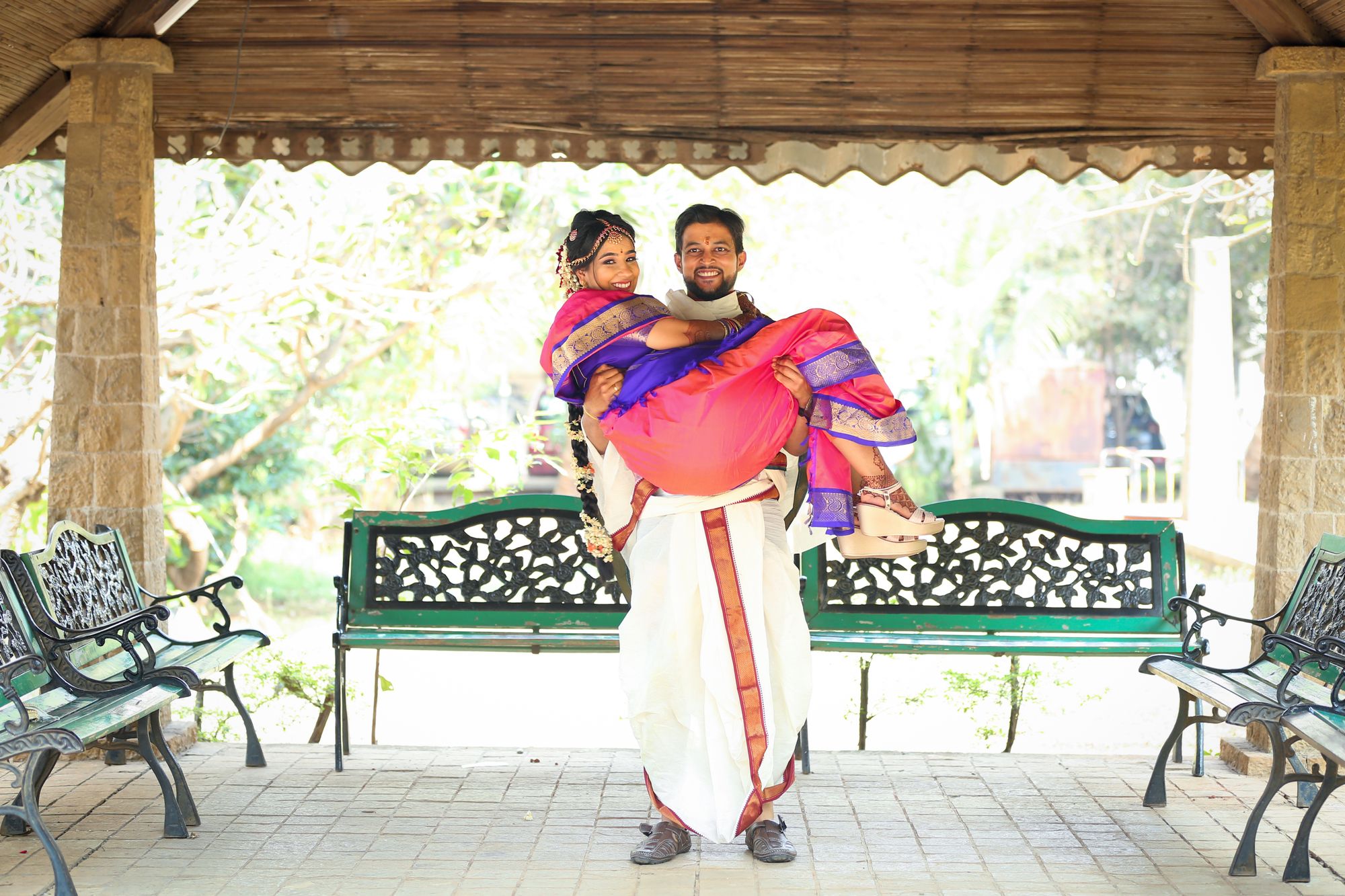 Steps to pose:
The groom must stand firm on the ground
Lift up his woman above the ground, with bride wrapping her arms around his neck
Now either look into each other's eyes or straight into the lens; with a pretty smile on your faces

7. "Cheek by Jowl" or "Side by Side" Wedding Photography pose
This pose is prevalent and considered for unconventional posing photography where only one of the two's faces is shown in the frame.
The photo is taken from a side angle while you both are looking at each other; the photographer presses the button.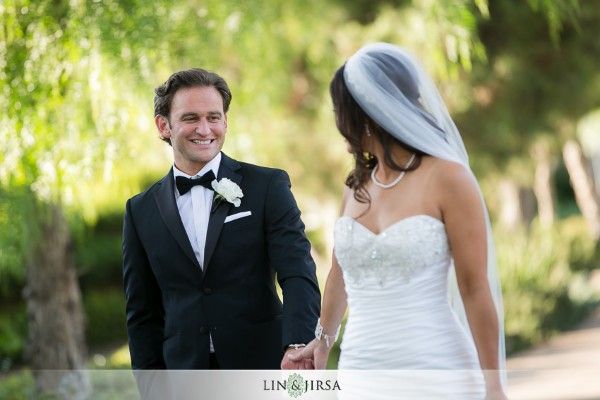 8. The Walk
This very particular pose can probably bring out wonders in your photographs, as you just have to walk while doing anything. It adds the most dynamism in the photos.
Steps to pose:
Link your arms or hands while walking
Start walking forward
And just be yourself to talk about anything, laugh on, or giggle, or impress with a romantic punchline; looking at each other
That's just it

9. The Dip Wedding Photography pose
This one is also close to "Swing" and "Carry" poses that signifies a dynamic motion. Again, it requires mighty muscles for a man to lunge, as it is more difficult than it looks.
It can really look awkward and odd if done incorrectly. The most common mistake is when your man lunges too much forward making it look more like a squat and not a lunge.
Steps to pose:
Bring your bodies closer
Groom should wrap one or both hands around
Hold one hand of your lady if only one wrapped around
Groom then should lunge forward and not look squat, and the bride should let him dip in
Look into each other's eyes with a smile, or go for a kiss.

10. Tap and Dance
Dance is itself a dynamic form of expression, and doing it for wedding photography poses will add immense action and motion to the final picture. For delving out a great pose, you can just enjoy whatever you like to do for a dramatic pinch.
Hold hands, swirl and twirl, come closer, move apart with hands connected, or anything that defines you. This will add your personal touch, your nature and your story to the picture.

11. Moving in for the Kiss
This is one secret pose in the world of wedding photography — as well as for a couple in general — that holds extreme romantic tension and pulling energies: known as the "Almost Kiss".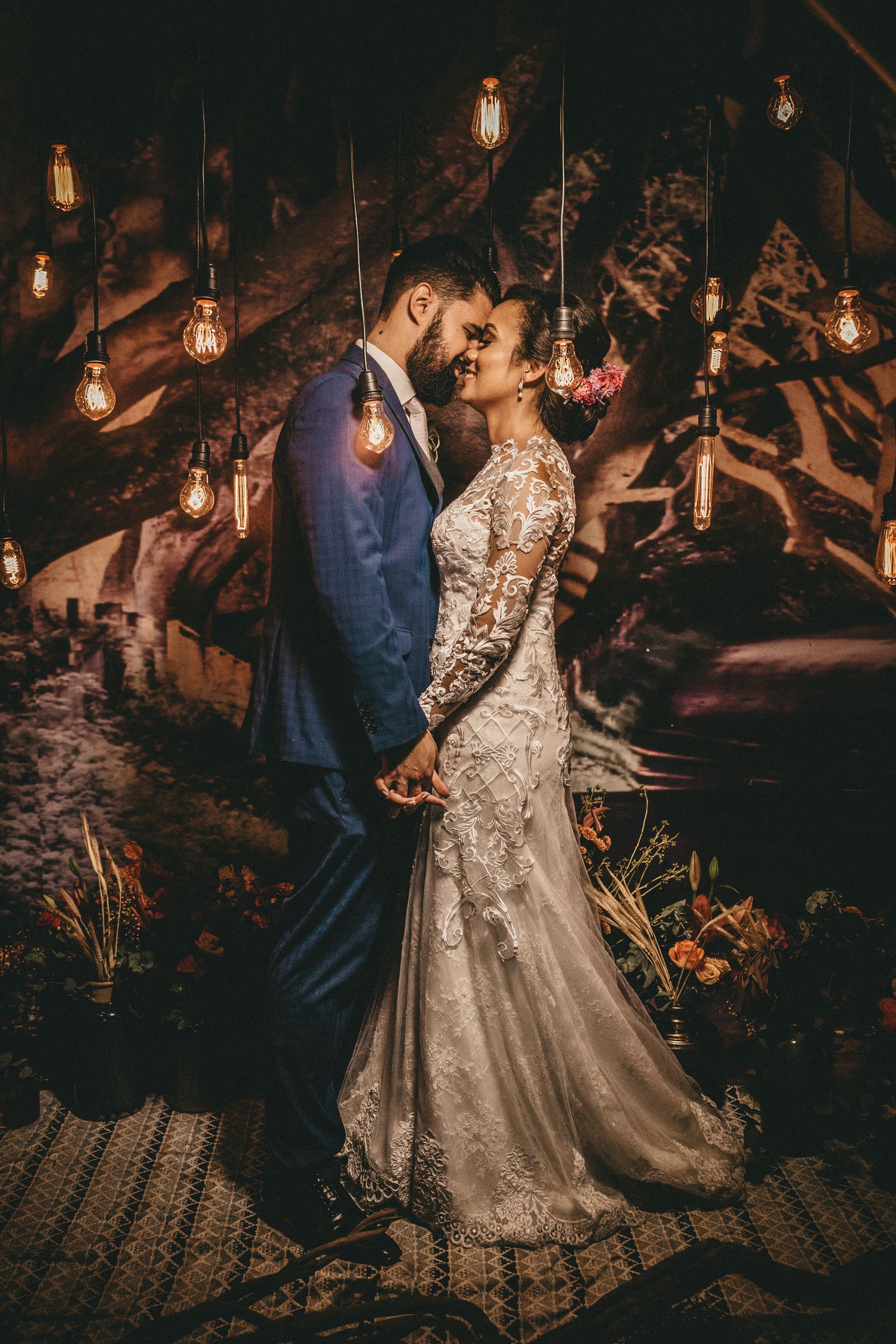 To perform it, just be natural in your zone. Come closer and forget rest. Slowly move in to slow down just before your lips touch your partner's, that's when the photographer will show his or her magic to capture the most romantic picture of all time.

Conclusion of Wedding Photography poses
WedNicely has only one piece of advice to make your wedding photos flair and bloom in your album: Just Be Natural.