With the dates marked, wedding venues finalised, and vendors booked, it's time to roll out Save the Date to your guests.
Save the date is a crucial element in your wedding as it helps your guests already mark the date and plan things accordingly so they don't miss your wedding.
Like every other element like décor, photographer, or planner that are involved in your wedding, Save the Date and invitations helps in deciding and setting the tone of the wedding. It gives you a clear vision and ideas further on so that everything falls in tandem.
You are supposed to send Save the Date invites 9 to 7 months before your big day, and an official wedding invitation is expected 2 months prior.
Here we have picked some Save the Date ideas to drive your inspiration.

1. The Simplistic Approach
If you are not a great fan of quirkiness and are inclined to 'Everything simple' kind of tastes, you must go with a simple Save the Date idea.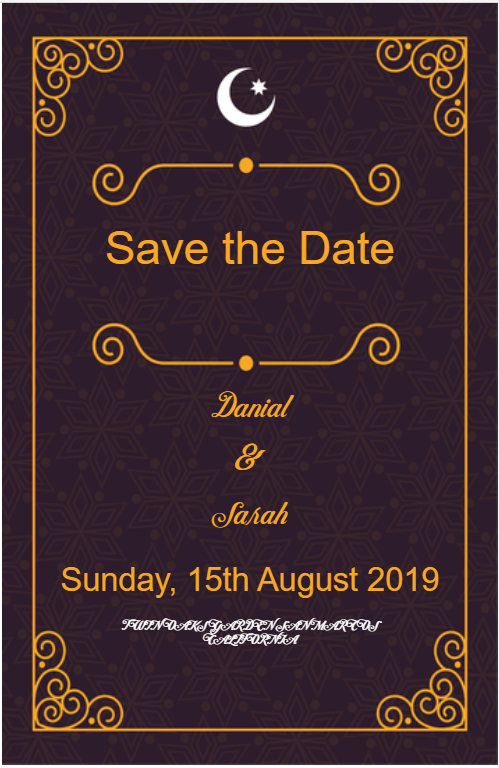 A simple Save the date invite will and can have only one colour painted all over, along with a text of the same colour and font. In addition to it, it will have simple yet elegant designs carved all around and over the canvas which makes it sober yet attractive.

2. Almighty Imbued Save the Date Idea
Some couples prefer to have figures and symbols of Almighty or God imbued on their invitation cards. This gives them a sense of reverence through which they are blessed, and also wants everyone receiving the card to be blessed.
A Save the date card with figures of God approaches symmetry in its symbolism. You'll see God at the centre of the card defining the divine power as a supervising authority. And all the other elements inside the card will most likely be dualistic and symmetrical to each other.

3. Your Personal Photograph on the Save the Date Idea
One way to announce the date of your wedding through Save the Date invites is to add your personal favourite picture.
A personal picture not only looks amazing with the overall enhancing beauty of the card but catches the eye of a viewer anywhere.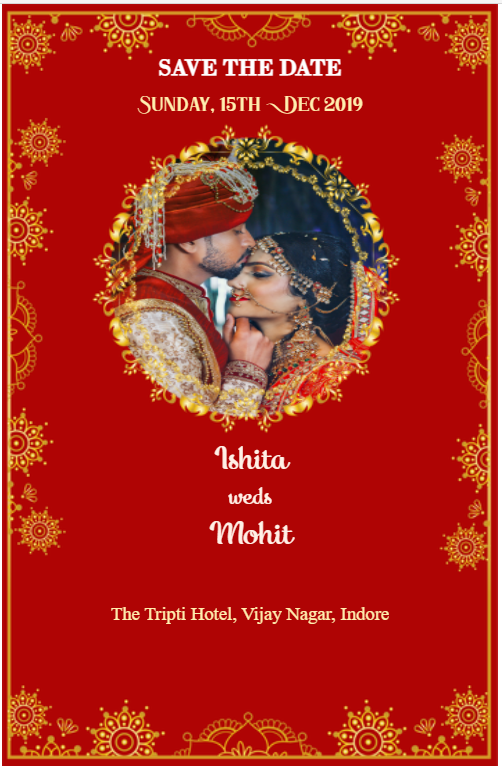 So, when you post your Save the Date Invite in groups and on social media, people will have their attention caught by your pictures and that will etch the dates in their minds.

4. Rings and Envelopes entangled
You sure are the love birds from college or school who are going to get married and set forth a journey to eternity.
Do you remember the moment when you both got down on your knees when he offered the ring with a proposal? Obviously, you do! Then, why not go with a similar thing on your Save the Date invite!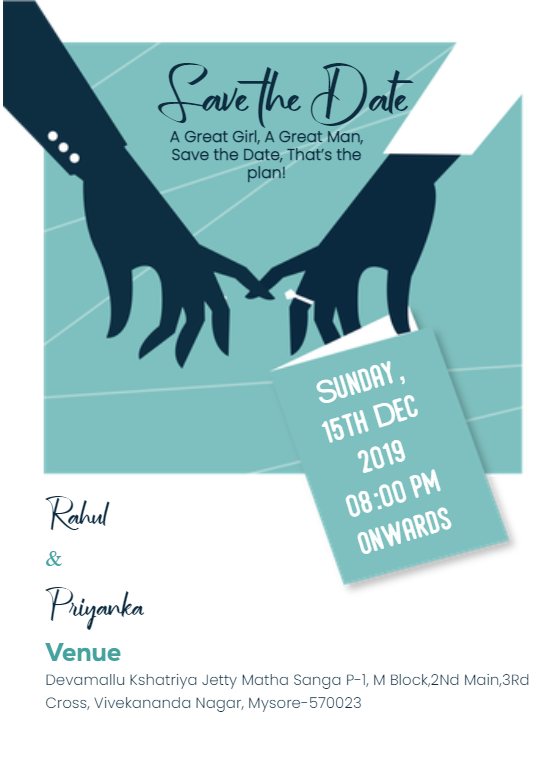 Choose a card with rings and envelopes entangled with each other while two love birds come close. These kinds of cards will usually have a lighter tint of adoring colours like pink, blue, or violet in gradient shades, and that makes them beguiling.

5. Two Colours Only Save the Date Card
Using only two prominent colours as the theme of Save the Date invite is a middle ground for the ones who are looking for something simplistic as well as appealing.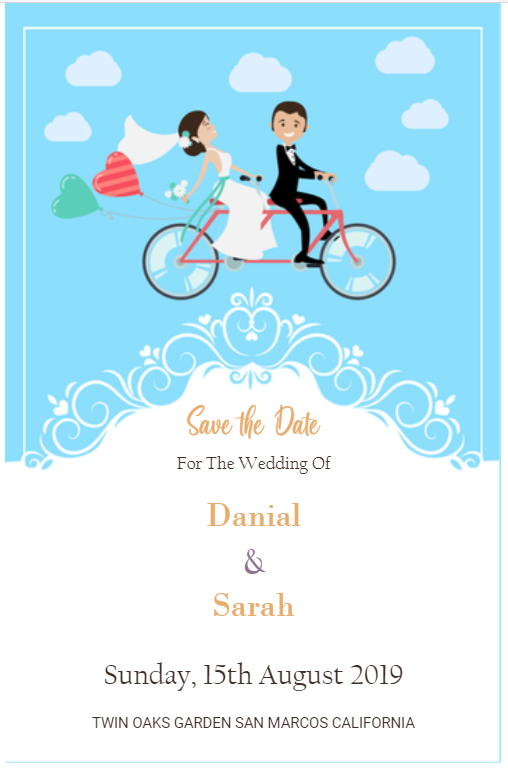 In this theme, you can opt for anything in selecting the curves, figures, and symbols that go in tandem with the overall card.

6. Vibrancy popping out
If you have set the theme of your wedding as full of colours and vibrancy, then going with a Vibrant card is the best option that WedNicely would suggest.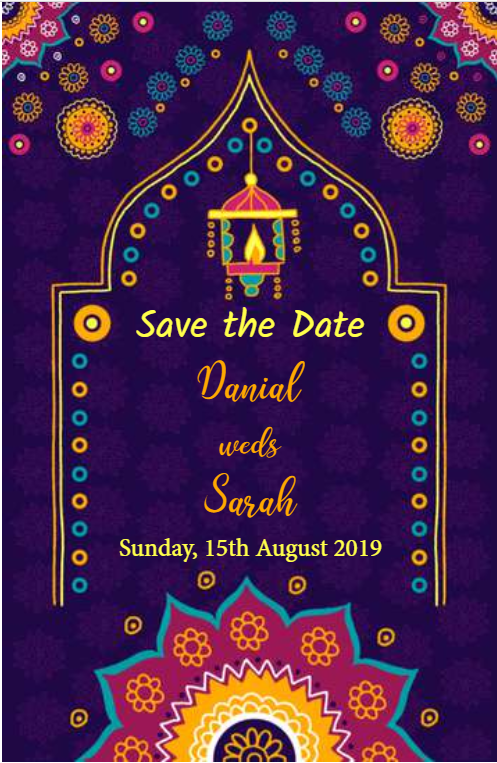 A vibrant card will have every element that you have imagined should be on the card. It has different and varied colours, Mandala Art, lamps, flowers, rangolis....and many more things, Pheww! Why don't you look for yourself?

7. Caricatures!
Caricatures are the imitations of how you look in real life. And how amazing would it be to have those cute and pretty looking cartoon style creatures on your Save the Date card!
Moreover, caricature cards follow a unique way of attracting the viewers or guests by their inclusive combination of everything that you have read above.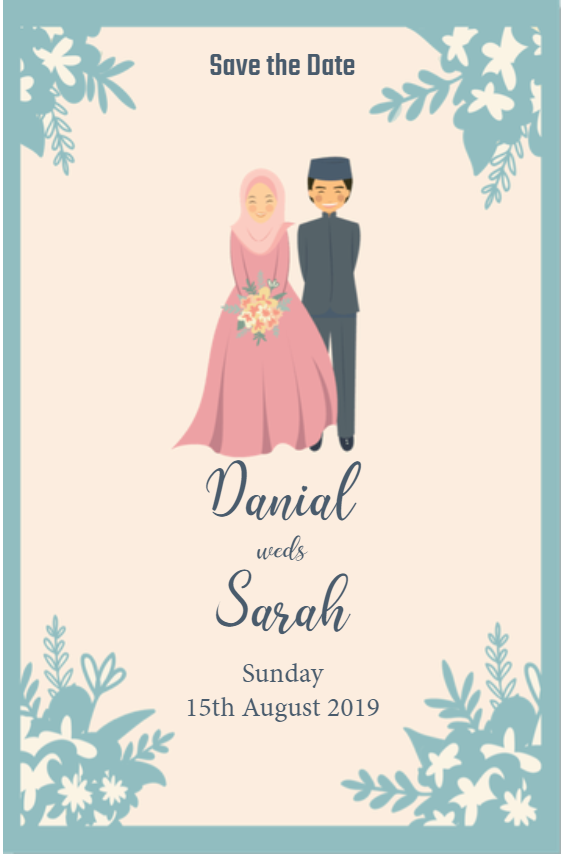 You can readily add anything to a caricature card that resonates with the theme of your wedding.
One personal piece of advice from WedNicely when going for a caricature card is - Select the wedding attire you would wear for the wedding and imbue it on the card. So, when guests come over, they'll be baffled to see the thought you had put behind.

8. Make everything Customised Save the Date Idea
Well, there's one option you would love to have for every kind of invitation card. May it be Save the Date, Wedding, Engagement, Mehndi, or Sangeet ceremony, you and everyone would love the personal touch you would give to every element on the card.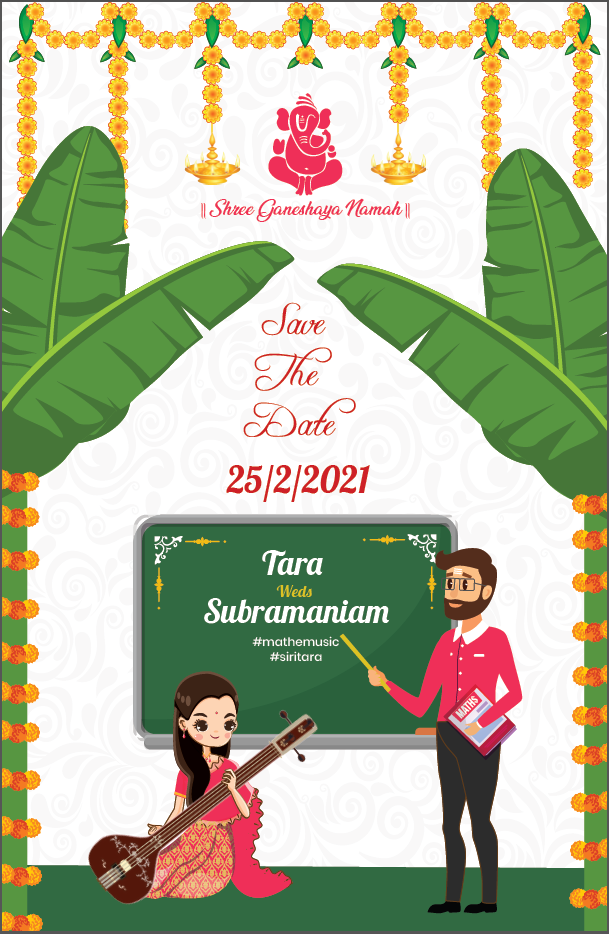 Opting for a customised card is like being a wizard with wands, and you can swirl it and change every element on the card by yourself. And WedNicely knows couples like you these days want everything to be personalised, hooked with their experiences and nature.


Since the Covid-19 outbreak, couples have shifted their focus more towards e-invites for their wedding rather than choosing the conventional means. And these Save the Dates are the recent addition to the weddings, considering everyone is present on your big day!

Want to see more such ideas? Visit our WedNicely's Invitation card maker website and application.