Introduction
Pondicherry one of the most beautiful union territories of India is a coastal city profoundly known as Pondicherry City is the capital of Puducherry. It covers a smaller region of 19.54 km2 area with Tamil Nadu surrounding it. It is only approx. 10ft elevated above the sea level. It shares its shore with the Bay of Bengal having playful waves to the shores of the fascinating Rock beach. Pondicherry is the compact city covering every eye-catching site to visit. It is confined with many churches showcasing British ambiance, numerous temples, symbolizing ancient Indian idealism, and the alluring beauty of nature with the beach in it. These pleasing sites in Pondicherry state you need not travel to different cities or states to get these all sites as these all are present in your land, within a few steps away.
There are 11 beaches in Pondicherry, including Auroville Beach which is famous for surfing, your guests can enjoy surfing there, Promenade Beach popular For Beach Yoga with a calm and healing atmosphere, Paradise Beach known For Backwater Boating can be used for relaxation, Serenity Beach provides an excellent environment For Sunbathing and if you are addicted to fishing Mahe Beach is the ideal option. Karaikal Beach is known For Canoeing, Quiet Beach, and Reppo Beach are regarded greatly as Vacation spot For Relaxation, The Place Paradiso Beach has amazing site for bird lovers, Veerampattinam Beach is the perfect place to see the Mesmerizing Sunsets and Rock Beach to enjoy the astonishing Sunrises.
Since, the place is having numerous eye-catching visiting spots, which you can take as a boon and can go for a pre-wedding shoot at different beautiful places in your land only. This will save your traveling expenses to different places which you can use for something more important. And since you have always imagined a beach destination wedding, what else will be the perfect place than Pondicherry with such a collection of beaches and all unique with its beauty.
There are many more things that you need to think about before hosting a grand wedding. But no need to worry because we are with you so we will help you to achieve all the best things for your dream day. Stay tuned with us to know the ideal venue, perfect time, and expenses that are needed to host your awaited wedding of life.
Make Wedding Invitation Online
Wedding venue in Pondicherry
When you think of a wedding the first thing that comes in our mind is where to host the wedding, which means the wedding nest. There are thousands of hostels and resorts by seeing which you get confused about which to choose which not to. Here are a few venues that we have selected for you to give you the exact taste of your dream destination wedding.
Le Pondy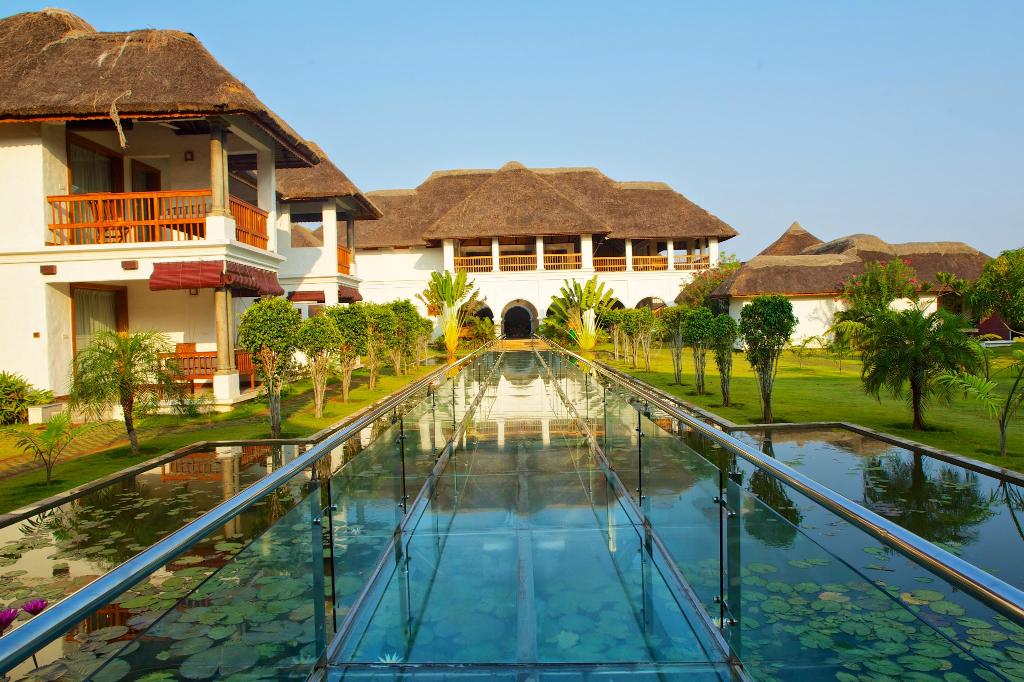 Le Pondy is one of the classy 5-star hotels nested on the firth between Chunnambar River and the Bay of Bengal. It has proper connectivity with the rest parts of the country as the Pondicherry airport is only 40 minutes i.e. 15km from the wedding destination. It is extended in 14 acres of land and comprises three lawns, one large banquet hall, and 70 well-maintained rooms and many more villas for hosting your dream wedding. It provides you all types of relishing cuisine like Indian, Chinese, Mexican, Oriental, Continental, etc. There is no scope of fewer facilities as the resort provides you all the basic facilities along with added on facilities like Wi-Fi for higher connectivity, a Swimming pool where you can host your pool party or go on a wedding photoshoot, spa, enormous parking space, play area outside the house, library, health care facilities, and a decent Ayurveda center. The Seaview Lawn is the best venue that you can choose for the ideal beachside destination wedding. It is spacious enough to accommodate 300 people. It has two more lawns for hosting your wedding; those are the reception lawn and poolside lawn. Since you want the best of all things, you will have the option of a poolside and the reception lawn in any other hotel but the seaside view is the thing that will not let you ignore it.
Costs of 1 room / Night: 6500INR
Number of guests: 300
Nature of the venue: Banquet Hall, Poolside lawn, Seaside lawn, and a Boardroom.
Alcohol Permitted: Yes
Bonjour Bonheur Ocean Spray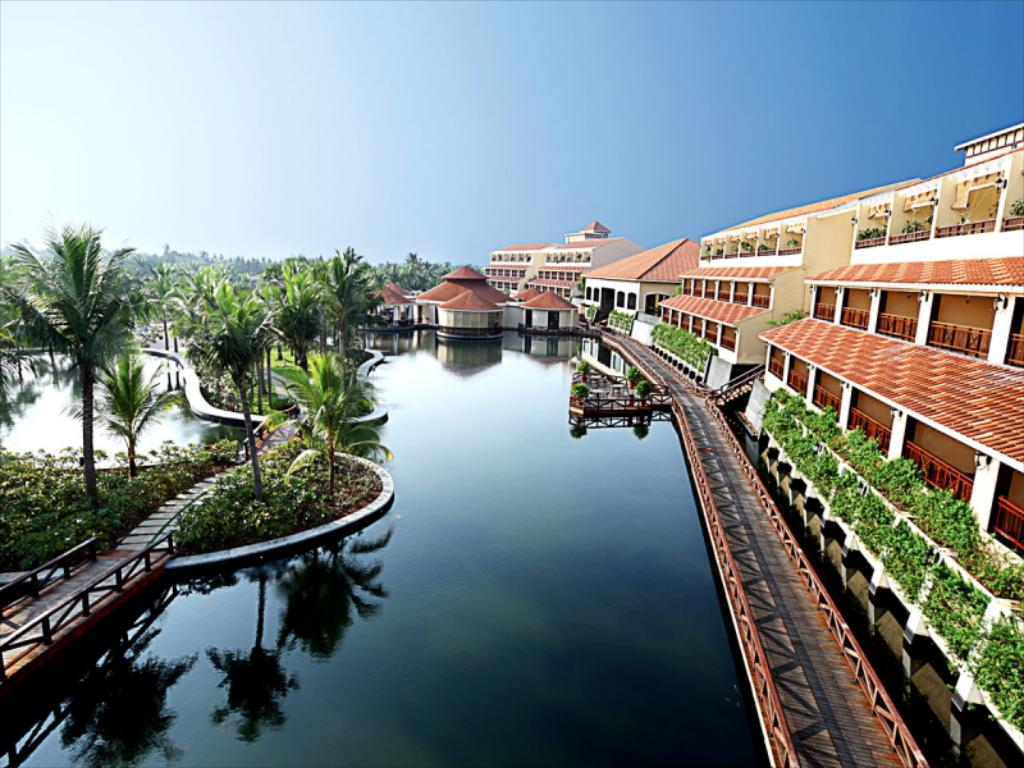 Bonjour Bonheur Ocean Spray is another classy 5-Star Hotel with its private access to the Silver beach covering an area of 23 acres of land. It has a refreshing ambiance and the sprawling coconut grooves add the excellent flavor of south India. It has a perfect communication system just 17 km away from the Pondicherry Airport which takes merely 30 minutes. It provides all sorts of cuisines which might be Vegetarian and Non- vegetarian according to your wish. The delicious food includes variations like Italian, Mexican, Chinese, South Indian, Sri Lankan, Mediterranean, and Oriental. As it is expanded enough, it has numerous spaces to host your party like it has two outdoor lawns, two sizable banquet halls, 72 well-furnished rooms, and 28 villas. It provides facilities like Wi-Fi for higher connectivity, pools where to host your pool party, or have a quality relaxing time, spa, flower shop, enormous parking space, and Doctor on call for any case of emergency. It has 3 Trafalgars which can accommodate 300 people each except the Trafalgar 3 is slightly smaller, having a capacity of 100 people. It has a huge magical seaside space with a capacity of 5000 people. It also has a site known as Tudor which has a soothing décor in it and is good enough to go for a small private party with some people there as it can have 50 people in it.
Costs of 1 room / Night: 5500INR
Number of guests: 300
Nature of the venue: Banquet Hall, Poolside lawn, Seaside lawn, and a Boardroom.
Alcohol Permitted: Yes
The Windflower Resort and Spa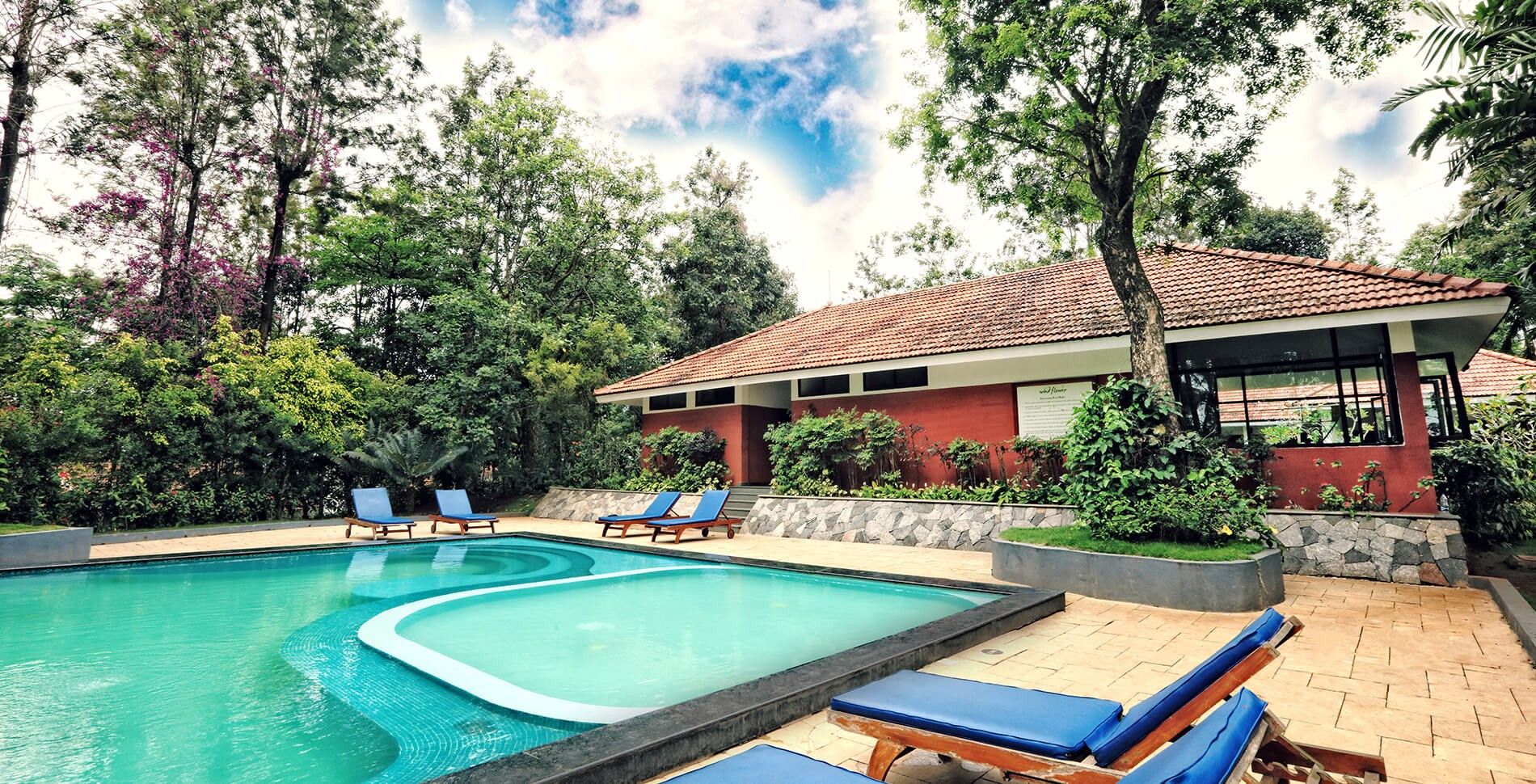 The Windflower Resort and Spa is famous for its heaven beauteous surroundings as is surrounded by backwaters on one side and the magnificent Bay of Bengal on the other side. It is a 4-star resort with an eye-catching ambiance and a mind refreshing atmosphere. It has the best possible connectivity as 12 km away from Pondicherry Airport and takes only 30 minutes to reach the resort, which is better for the wedding attending guests. Wi-Fi for higher connectivity, a swimming pool where you can think for a perfect pool party or go on a wetly pre-wedding photoshoot, wellness spa, enormous parking space, play area outside the house, private beach space, and an extra activity room which might be a need for the wedding day for the last minute touch up. It has two outdoor venues, one ballroom, and 51 rooms for guest accommodation. It all depends on you selecting the preferable site to host the party. The lawn can accommodate 200 people in the buffet and the pool is best to go for a small party of 50 people. Further, the ballroom is available if you wish to have an indoor party.
Costs of 1 room / Night: 6800INR
Number of guests: 200
Nature of the venue: Banquet Hall, Poolside lawn, Seaside lawn, and a Boardroom.
Alcohol Permitted: Yes
St James Beach Resort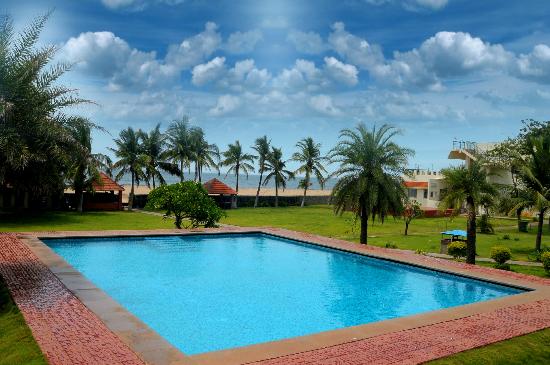 St James Beach Resort is majorly known for its traditional ambiance and classic outlook. It is a 3 –star hotel with a large sea-facing lawn with a capacity of 1500 people where you can think of hosting a grand wedding party and rooms are added with a pleasant morning scene. It has 40 delicate rooms with a pleasing ambiance. It is located at a distance of 10.7km from Pondicherry airport and takes a maximum of 30 minutes to reach the destination.
Costs of 1 room / Night: 6200INR
Number of guests: 200
Nature of the venue: Indoor Hall, Sea facing lawn, Alcohol Permitted: Yes
Alcohol Permitted: Yes
These are the list of few hotels which we have selected for you to host the best destination wedding which you have thought about for years. Now, the next point to think is the time, i.e. when to host an ideal dreamy wedding?
Best time to hold a wedding in Pondicherry
The wedding in India generally takes place in the months of October-November, January – February, and April – May. Pondicherry being the South Indian Territory it suffers from a harsh hot and humid temperature during the summers as its temperature strikes 40°C which is unsuitable to host a marriage. On the other hand, it has a pleasing winter condition, there is no chilling cool to be stuffed by hundreds of woolen wares indeed it has a temperature maximum of 30 °C to lower around 18–20 °C. Moreover, the northeast monsoon approaches Pondicherry during the middle of October- December, and suffers a rainfall of about 1,240 mm. Therefore, January and February are the ideal months for hosting a marriage in Pondicherry. But, if thought to go for marriage from October- November since this time also the climatic conditions are whelming them opting for an indoor banquet hall is highly recommended. Further, monsoon brings restrictions to the rules of the beach so winters could be suggested for the best wedding to happen with the utmost fun.
Conclusion
These are all the details that we have collected only for you to have your dream wedding lively. Hopefully, we have covered every respect which is dealt with in an ideal wedding. You dreamt a lot for this day so, congratulations to you for this day. Wish you a happy wedding ahead.