Introduction
A coastal town named Alibaug is located in the district of Raigad of Maharashtra. It has great connectivity to the mainland i.e. it is 96kms from Mumbai and 143kms from Pune. It gives all the communication facilities like railway, waterway, roadway, and airway (140 km from Mumbai airport). It has the perfect combination of historic sites along with the natural beauty of glistering sand of the bluish Alibaug beach. You need not go anywhere to have your pre-wedding shoot if you decide to go for a destination marriage here. The beauty of the place will add life to your wedding album. It has a tropical savanna climate with a temperature of around 20-30 °C. The plan to get married in the amazing land –water site of Arlberg is always a great idea. From a simple to an extravagant traditional wedding all is possible here. You can make all your wishes true by just stepping your way in its mainland; this will result in saving some cost of your travel expenses for either a pre-wedding shoot or to party.
Now, let us look forward to knowing what amazing things we have for you for your years awaited day of your life. Here, we will go through the venue, time, and expenses which are the reasons for worrying when you decide to get married.
Wedding venue in Alibaug
We will first look at the venues which are the main thing to decide first when we decide to tie the knot. It matters a lot because its appearance of the venue signifies the class, standard, and the dignity of the family. All the traditional rituals and functions like Haldi, mehndi, sangeet are held with great enthusiasm in the decided venues. So, roll down your eyes to get to know the mesmerizing venues and its expenses that we have collected only for you to give you the memorization of your marriage throughout life.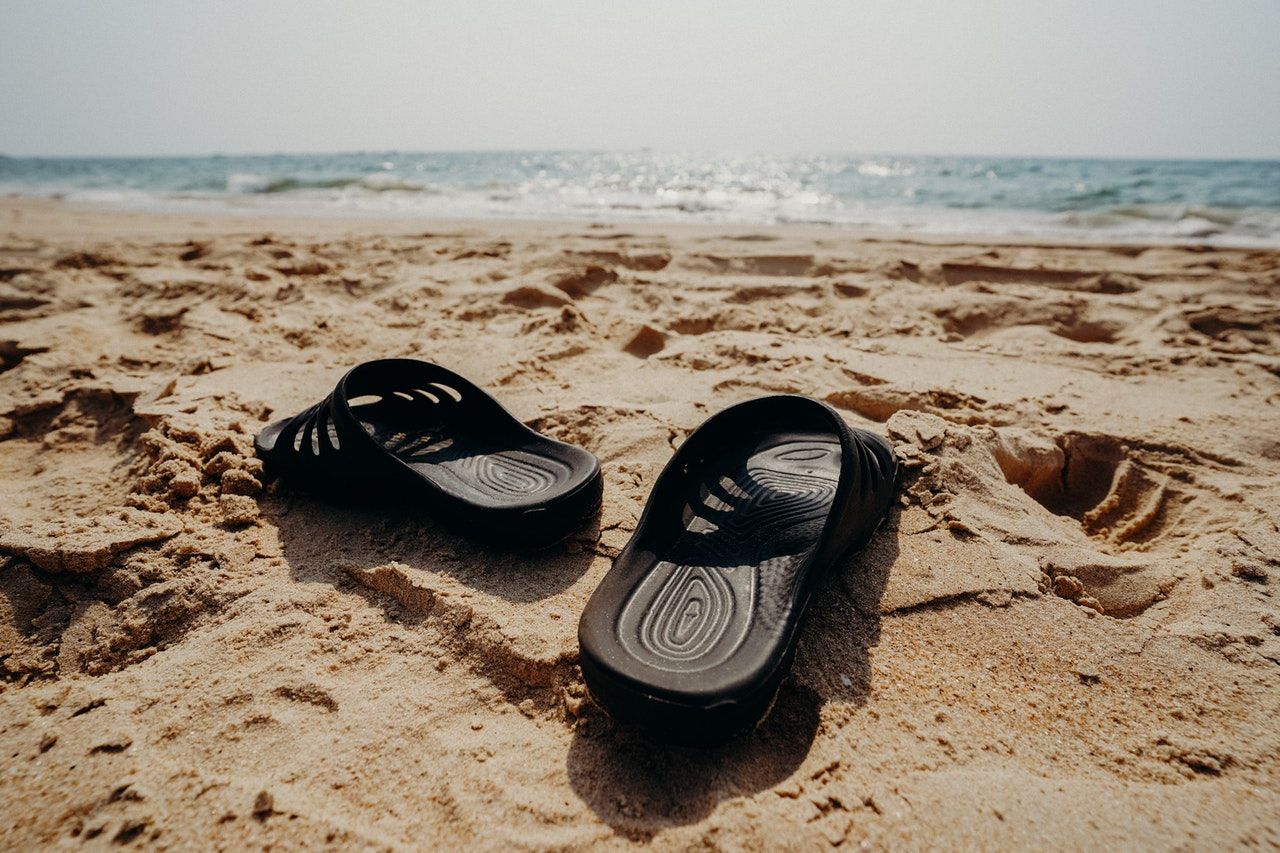 Hotel Ravi Kiran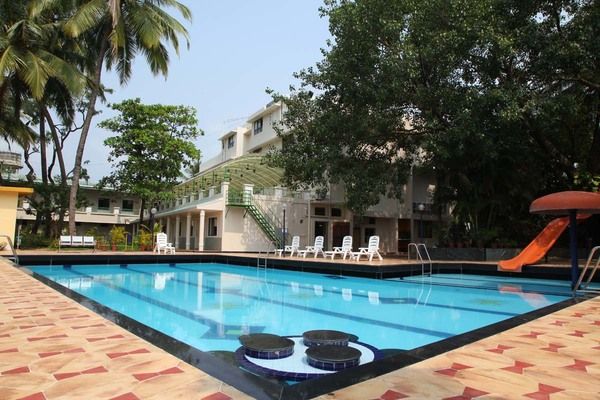 Hotel Ravi Kiran is a great 4-Star hotel with mesmerizing beauty. It has 40 well-maintained rooms with all sorts of basic facilities like Basic electricity and backup, DJ corner, In house catering, premium quality Alcohol, large parking, extra Bridal room for last-minute touch-up or emergency needs, In house décor, Cooperative Service staff, enough Guests Accommodation. It provides all types of cuisine that could be anything vegetarian or non-vegetarian food. It has a large pool that has a floating capacity of 500 people and a large banquet hall for the seating arrangement of 300 guests. The pool is surrounded by a lawn that can accommodate 100 people. The average costing of each is around 2000 INR/night. The hotel allows you to burst the firecrackers during the entry of baratis. The coconut plantation around the hotel adds stars to the greenery. Hotel Ravi Kiran is one of the good options which you can go for when you are planning your destination wedding.
Number of guests: 200-400
Cost per plate: from 700 INR
Nature of the venue: Lawn, Banquet Hall
Alcohol Permitted: Yes
U Tropicana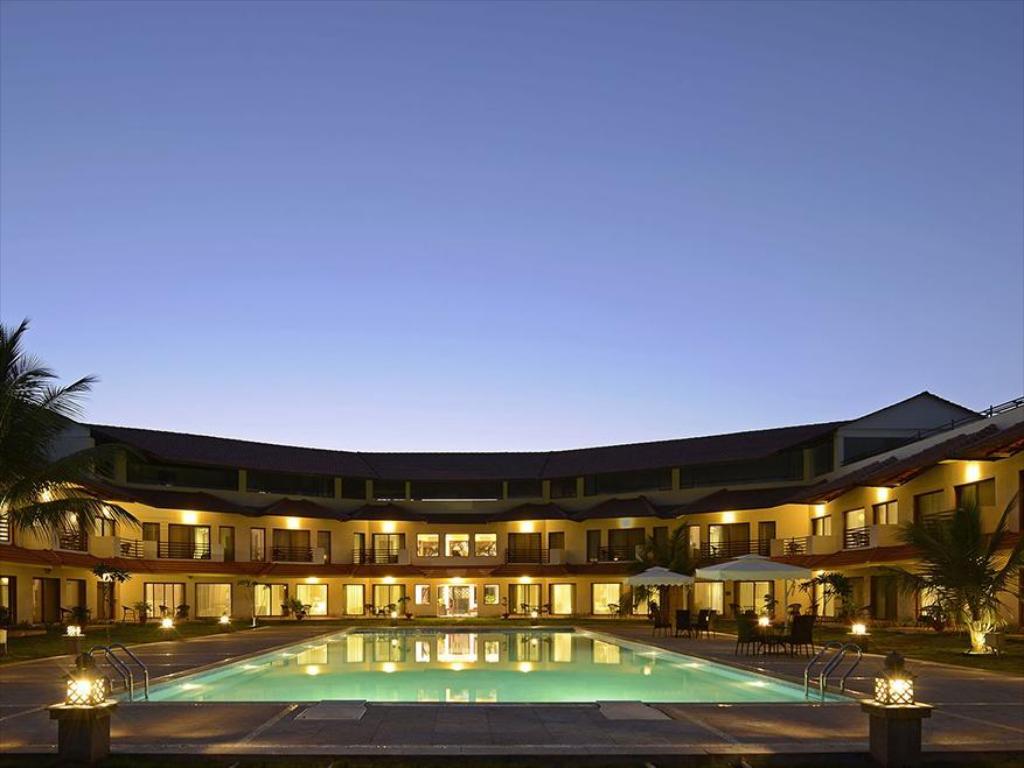 U Tropicana is one of the best resorts that you can think of for a destination wedding. It is profoundly known for its amidst beauty and healing atmosphere around it. It is situated in Chondi Naka of Mapgaon in Alibaug. It is magnificent with 32 large and comfortable rooms for the visiting guests and acquaintances. It permits the in-house alcohol consumption but not outside it. It has an extensive pool with a floating capacity of 600 people which could be the prettiest sight to go for a pre-wedding photoshoot. Indeed, you can also throw a pool party in the alluring large pool. The resort has a large banquet hall with a maximum accommodation of 350 people. It provides all sorts of basic facilities with a spacious parking site for a maximum of 60 cars. U Tropicana provides you extra benefits like a fitness center, U santé spa, the library, restaurant, and a bar for the relaxation of the acquaintances attending the ceremony. Hosting your wedding in U Tropicana will make you satisfied enough with your decision.
Number of guests: 300-350
Cost per plate: from 1,500 INR
Nature of the venue: Banquet Hall
Alcohol Permitted: Yes
Hotel Maple Ivy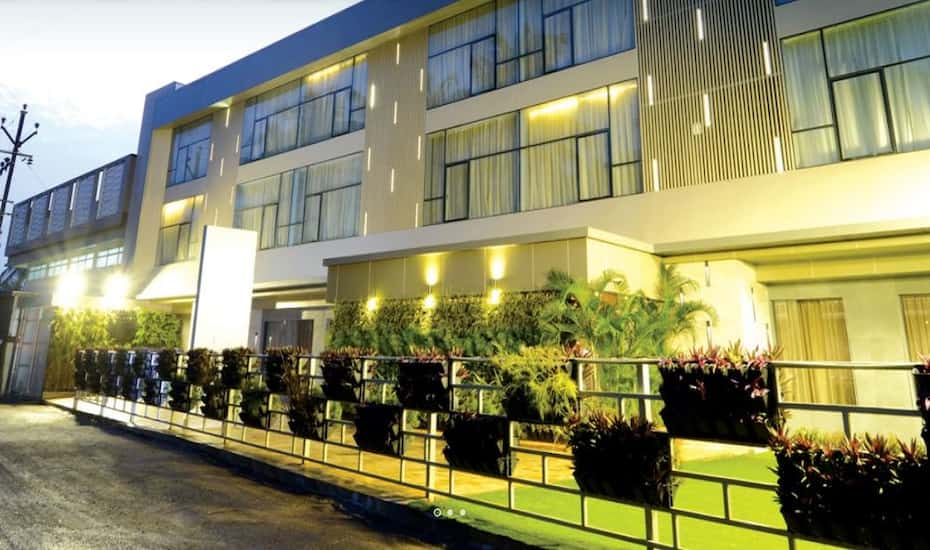 Maple Ivy is an alluring Hotel nestled 3km to Alibaug beach. It provides the most relaxing atmosphere away from the rush of the city. It is a 3-Star hotel with 24 luxury rooms with a costing of 2000 INR/Night. It has fascinating greenery which will have you fall for it. It provides you all the basic facilities with the attached bathroom, electricity backup, large parking for the attending guests, air- condition of the hall and rooms. It is situated 7 minutes away from Alibaug Bus Stand so provides better transportation availability to the wedding attending invitees. It provides both types of food, Vegetarian, and Non-vegetarian according to your demand. The consumption of alcohol is also allowed in the venue. It has a gala hall with a maximum accommodation of 250 people. The resort allows you many things like the bursting of firecrackers, entry of Paris, the commencement of Hawan, and air conditioning indoor hall. Hotel Maple guarantees you an unforgettable experience.
Number of guests: 200-400
Cost per plate: from 500 INR
Nature of the venue: Banquet Hall
Alcohol Permitted: Yes
The Mansion House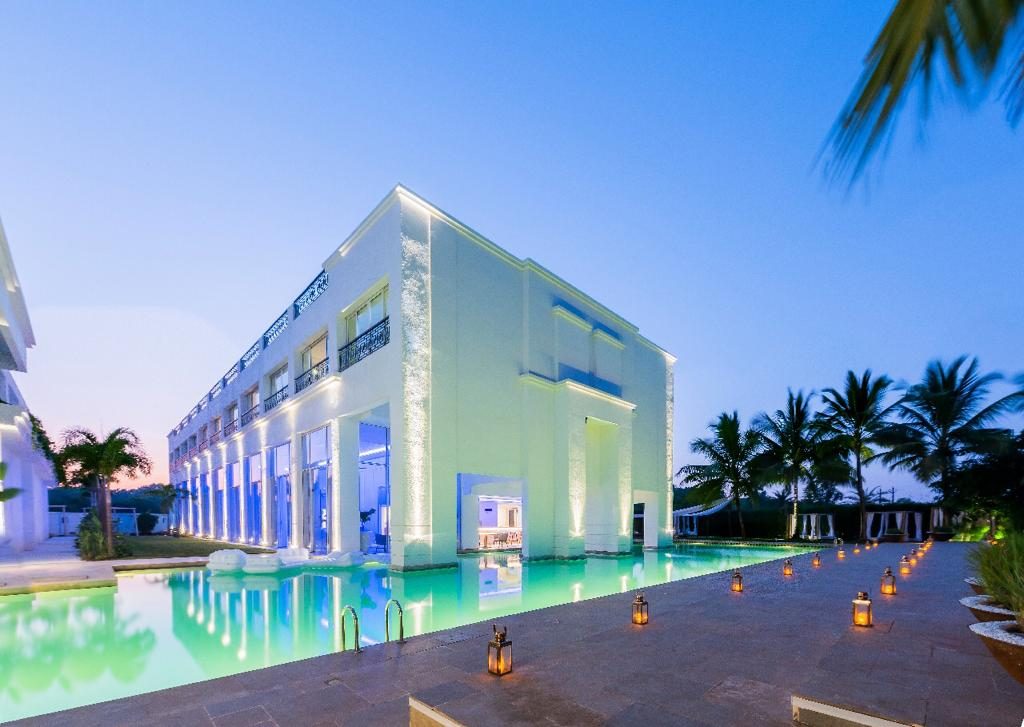 The Mansion House is located in Near Singhania Helipad, Saswane, Alibaug provides the best venue that a bride can dream of for her wedding. It provides you a fairytale-like appearance which is quite impossible for you to believe until you see it through your own eyes. It has 2 magnificent lawns with each having a capacity of 1,500 people in it. It has a pool where you can give poses for your pre-wedding shoot or video graph creation. The pool is large enough to hold 2500 floating people in it. It has 25 well-furnished rooms with all the basic facilities. It provides in house DJ facility and allowance to alcohol consumption. The venue provides a gazing atmosphere with eye-soothing greenery. It provides a pleasant morning view with the crippling of birds all around. The calm and silent atmosphere is good enough to refresh your soul. The Mansion house provides all the requirements and décor that a bride wishes for a romantic wedding.
Number of guests: 1500
Cost per plate: from 1,800 INR
Nature of the venue: Outdoor Lawn.
Alcohol Permitted: Yes
The Fern Silvanus Resort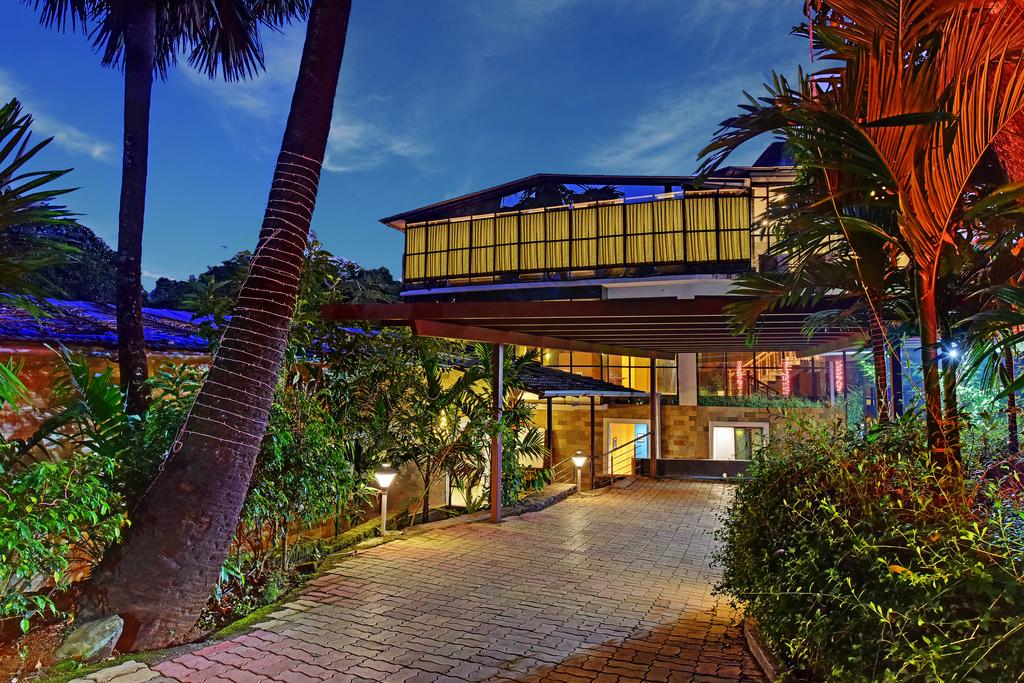 The Fern Silvanus Resort is situated in Alibaug-Revdanda Road, Alibaug. It is a 4-Star hotel with adequate internal décor and eye-catching ambiance. It provides all types of relishing cuisine such as Indian, South Indian, Thai, Oriental, and Chinese, etc. It has both a banquet hall and a lawn to host the wedding party. You can think of this resort for your marriage as it is providing you both the option of in house and outdoor parties. It permits the consumption of alcohol on its campus. It proves the facility of in-house catering so you need not worry about the food arrangement for the invitees.
Number of guests: 150
Cost per plate: from 500 INR
Nature of the venue: Outdoor Lawn, Banquet hall.
Alcohol Permitted: Yes
Radisson Blu Resort & Spa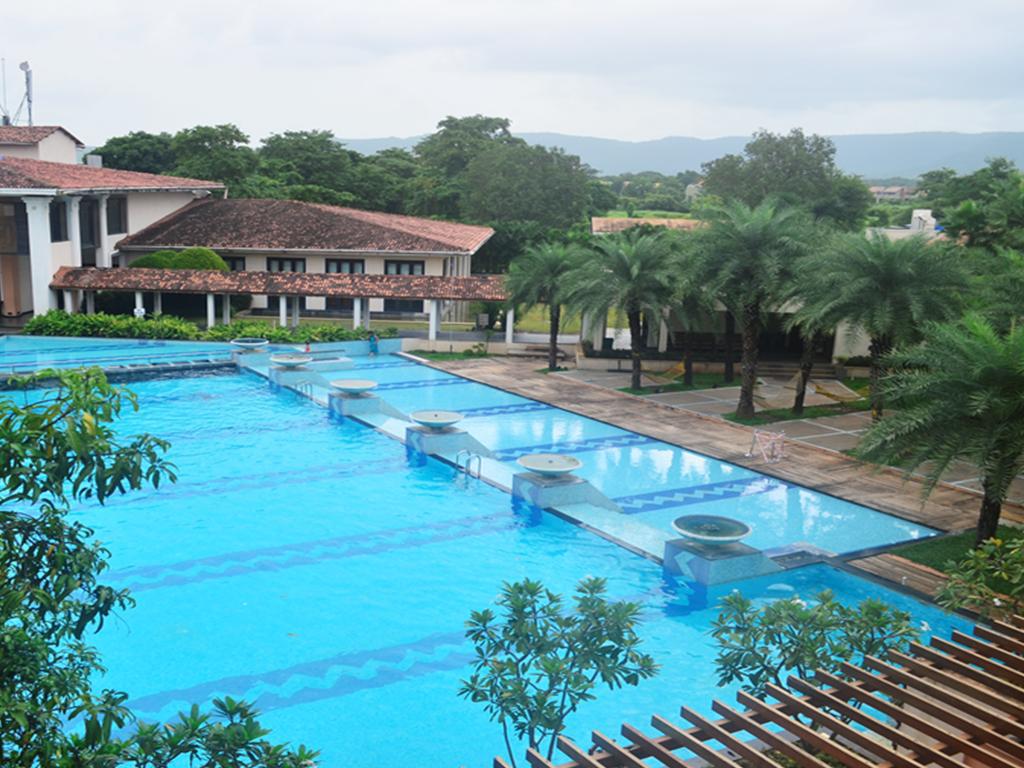 Radisson Blu Resort is one of the 5 –Star wedding hotels with an alluring ambiance. It is located in Gondhalpada, Varsoli, Alibaug. It has 250 rooms in it and the cost of the rooms starts at 2000INR/night. It has 2 spacious banquet halls which can seat 250-400 people. You can select any of the halls according to your preference and the number of guests. All types of Vegetarian and Non-vegetarian food are available in the resort so you need not be tensed of the catering system for dinner or the wedding attending guests. It has a large ample parking area. The wedding décor is also provided by the resort along with the allowance to firecracker bursting.
Number of guests: 250-400
Cost per plate: from 500 INR
Nature of the venue: Banquet hall.
Alcohol Permitted: Yes
These were all the details that we have collected related to different venues, now let us decide when to host your dream wedding ceremony?
Best time to host the wedding in Alibaug
The wedding season in India said to the months of October-November, January – February, and April – May. The temperature is best and suitable to get married in Alibaug during the winter seasons like November- February. The environment is cool, and not at least hot and sweaty. Further, July-September is the time for the arrival monsoon in Alibaug and there is heavy rainfall and harsh climatic condition but the environment seems to be romantic enough with the musty smell of the wet muddy land. In these months no boating and water sports are allowed so it is recommended to choose other months of the year from the calendar to get married. Further, the summer seems to be hot, humid, and sweaty to host a wedding. So, the winter season having wedding dates from October- December, January- February is the perfect time to get married with a calm, pleasant, and romantic atmosphere all around. Further, water sports are also allowed during these months, which sounds to be the ice on the cake.
Conclusion
This was all we gave you that we had with ourselves to give you the best wedding of your life. Choose everything wisely and get the best of everything. It is your wedding, it is your dream, live your dream because it is something which you waited for years. Have a great marriage life, Stay blessed.